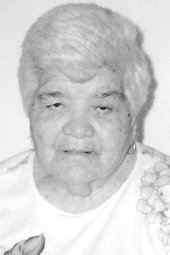 Vitalina Sanchez, 96, passed away peacefully on Aug. 13, 2013 in Toppenish. Vitalina was born April 23, 1917 to Juan Sanchez and Zenorina Espindola in Michoacan Mexico. She married Jose Ramos at the age of 23. Vitalina enjoyed family gatherings and was never camera shy. Her sense of humor could always lift your spirits. She also enjoyed helping her daughter Martha make quilts for the family.
She was preceded in death by her husband Jose Ramos, her son Santiago Ramos, and recently by her youngest sister Zeniada Sanchez.

She is survived by her nine children whom she loved dearly; Maria Ramos, Miguel Ramos, Lorenzo Ramos, Martha Carrasco, Aurora Larios, Santiago Ramos, Ignacio Ramos, Maria Alvizo and Adela Ramos. Her loving family has continued to grow through the years. Combined, her children gave her, 76 grandchildren, over 100 great grandchildren and 10+ great-great grandchildren.

On behalf of the Ramos Sanchez family, we would like to extend our deepest gratitude to Father Mario Salazar of the Our Lady of Guadalupe Parish for helping us in our time of need. To her daughter Martha Carrasco, words cannot express our gratitude for dedicating yourself with love and devotion in the care of our mother, sister, grandmother, great grandmother and great-great grandmother. May God bless you for your unwavering devotion.

Viewing and visitation will be held from 1 to 8 p.m. Thursday Aug. 15, 2013, with the Recital of the Holy Rosary at 7 p.m. at Valley Hills Funeral Home in Sunnyside. Mass of Christian Burial will be held at 10 a.m. Friday, Aug 16, 2013 at the Our Lady of Guadalupe Catholic Church in Granger. Graveside services will follow at Zillah City Cemetery in Zillah.
Valley Hills Funeral Home in Sunnyside is in care of all arrangements.

More like this story