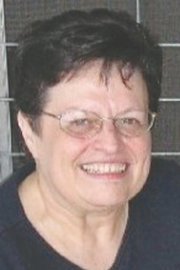 My office window opens to the view of my back yard, lined with towering lilac bushes. A wire runs from one telephone pole to another about three feet above the lilacs.
I open the window to the early morning fresh air as I check email and news, and get ready for the show in my back yard.
A pair of doves live somewhere nearby, and my high wire is a favorite place for them to sit. Sometimes they are two or three feet apart, facing the same direction, cooing and preening. At other times they are facing opposite directions, very close together, picking at each other's heads and beaks. They remind me of people I know.
This week I have been entertained by a squirrel, balancing precariously in the air. The first time I saw him he was carrying a nut in his mouth as he scurried across to the pole. Two days later he was back. This time he used only his back feet to cling to the wire, with his swishing tail providing balance. He held a nut with his front feet, chomped at it and walked on the wire at the same time. This, too, reminds me of people I know.
Growing up on the Olympic Peninsula, we took many road trips to Seattle or Portland, and we never went without my mother's food box. My father had stomach surgery and required four or five small meals a day with snacks in between.
Mom was prepared. She used to joke that before we ever got out of town, everyone was asking, "What is there to eat?"
Humans can eat almost anywhere, and we do. We eat at the movies, as we shop, at sporting events, in the car and more.
And we build restaurants in strange places. The internet provides the following illustrations of unique eateries:
the Baobab Tree Bar and Wine Cellar in a seven-story high tree in South Africa, more than 6,000 years old and 155 feet in circumference. It seats only 15 people, but has a great sound system, wine cellar and dart board.
a 20-meter casket in Truskavets, Ukraine is also a restaurant. It has no windows and only a single candle per table. A funeral home built the restaurant, and all meals are named for Ukrainian mourning rituals.
an underwater restaurant in the Maldives, an island country of 1,200 in the Indian Ocean, holds only 12 people, and lunch starts at $195.
It's easy to get too busy these days, and never look out our own windows to the world. Great lessons await us, even from the doves, squirrels and each other.
What did you see today?
‑ Karen Helsel, a resident of Sunnyside, is a certified mental health counselor. She can be reached at kmphelsel@gmail.com, and will appreciate your feedback and humor sightings.