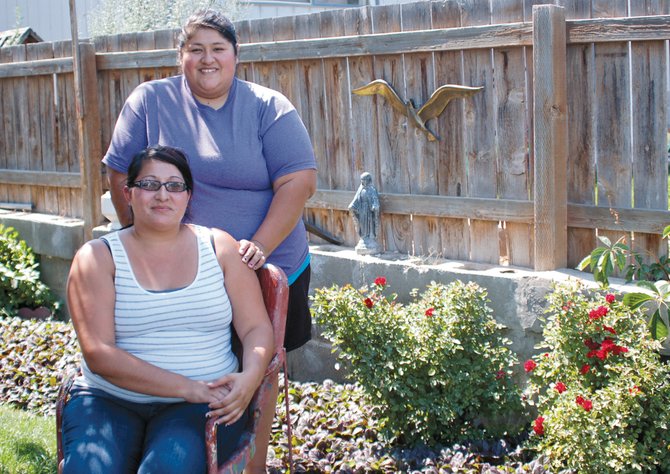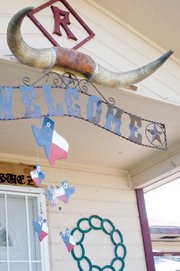 For the Dora Rodriguez family, keeping the lawn and garden trimmed, weeded and watered is an act of love.
"We do it for our mom," agreed her daughters, Amanda Rodriguez and Michelle Gonzalez, both of Mabton. The women, along with their brothers and father, Andres Rodriguez, spend a portion of each day working in the South Street yard, tending to the flowers, Gonzalez explained.
"The yard is mother's favorite place, so we work hard to keep it nice for her," she said.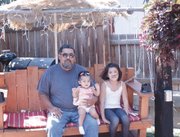 The Mabton garden is a not just a lovely place for summer afternoon gatherings, as even strangers drop by to sit awhile and soak up the fragrances emitting from the blooms of honeysuckle vines and petunias.
The cozy nature of the yard isn't abandoned during warm summer evenings. The family has strung twinkling lights around the front yard tree and the yard swing, which is the family matriarch's favorite places to relax after work, Gonzalez added.
"She had one before this one, but it got sort of rickety. She had her friend, Max Gonzales, build a proper sturdy swing, Gonzales explained. "The kids love sitting on it," she added.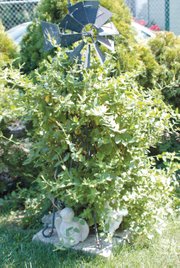 Mrs. Rodriguez has a variety of flowering perennials and annuals edging her yard, including her favorite flower - purple violets - which provide groundcover along a neighboring fence. But flowers are not the only accents in her yard. She has collected a small brick fire pit and ornamental windmill which add height and dimension to the garden spaces.
The yard is truly a separate living space for family activities. Everyone, down to the tinier members of the family, have a role in keeping Mrs. Rodriguez's yard beautiful. Whether it is keeping the lawn mowed or watering the colorful hanging baskets of petunias and ornamental vines, Mrs. Rodriguez's children spend a little time each day making sure her gardening efforts are maintained.
Mrs. Rodriguez, who works as a caregiver, has even trained her grandchildren to appreciate the garden.
"They all know not to mess with Grandma's flowers," said Gonzalez.