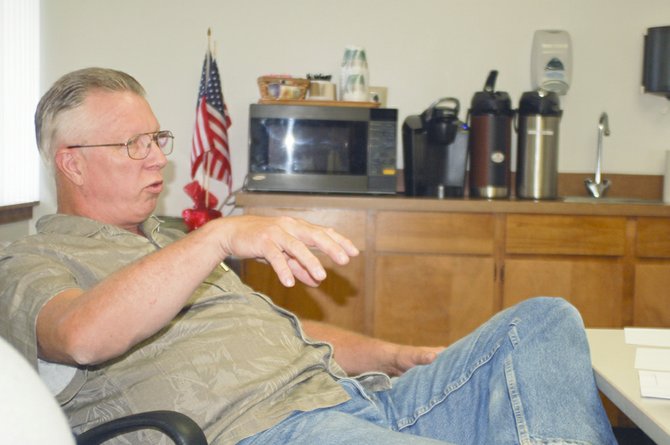 After a lengthy discussion on whether or not its meetings should be open to the public, the group known as Sunnyside Connects opted to tear up its old agreement, draft a new one and become an unofficial ad hoc forum.
Yesterday, Wednesday, the group met officially for what proved to be the last time. Sunnyside Connects is made up of representatives from the city of Sunnyside, Port of Sunnyside, Sunnyside School District and Sunnyside Community Hospital.
It was formed last year to help launch Sunnyside United, which has responsibilities that include coordinating and facilitating efforts to obtain grants that fight gangs and drug/alcohol use.
One Sunnyside Connects member, Sunnyside Mayor Jim Restucci, called the group an "incubator" or "founder's group" in launching Sunnyside United. With the United group up and running, the consensus yesterday was that Connects no longer needs to have formal meetings.
As a result, the new agreement receiving a thumbs up yesterday only calls for the CEO of Sunnyside Community Hospital, the Sunnyside city manager, a port official and Sunnyside schools superintendent to get together on a regular basis to share information and coordinate calendars.
It's also likely that each of the four agencies will have an elected official present at the informal meetings.
The new agreement was approved after Sunnyside Schools Superintendent Dr. Rick Cole shared research his district received from attorney Greg Stevens. The district paid Stevens to look into whether Sunnyside Connects, as it existed up until yesterday, was subject to open public meeting laws. Stevens found Connects was indeed required to have its meetings open to the public under what is now the former agreement.
Port of Sunnyside Com-missioner Jeff Matson asked if a new formal agreement was needed at all, given the group's new look. Cole replied that an agreement forces the four entities to meet together and share updates and compare calendars.
The need to stay connected was highlighted by Restucci, who noted in recent years the school district broke ground on a new building without the city even knowing about it.
Though its meetings are now closed to the public and the news media, Cole said the entity Sunnyside Connects still exists, with some suggesting a change to Sunnyside Connects Two or Sunnyside Connects Too.
Whatever the name from here on, the group that met yesterday says it wants to know how Sunnyside United fares going forward. Without that input, Cole says the danger is Sunnyside United could become another Sunnyside's Promise.
Noting Promise became its own 501c3, Cole said, "It went its own way and didn't stay connected…the rest is history."