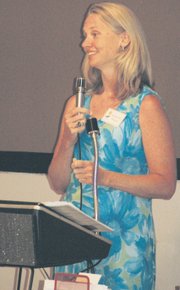 In a span of just over a year, Katherine Weaver's husband left and a child she hoped to adopt was snatched from her.
This past Tuesday, she told the Lower Valley Christian Women's Connection attendees her efforts to handle the losses were futile attempts to mask the deep pain she felt.
An administrative assistant for a pastor in Madras, Ore., Weaver shared how dragons aren't just creatures of fiction. She says there are spiritual dragons pursuing everyone. Dragons, she adds, that begin as little lizards and are allowed to fester.
Weaver said she had dragons of anger and resentment over the end of her 15-year marriage.
Weaver and her husband's efforts to take in a foster child finally came to fruition, but a few months after he left her.
She described how she threw her energy into caring for Marie, a pre-schooler who Weaver says had never been read to or rocked to sleep.
Weaver says it was rough at first with the small child, but they grew to love each other as parent and child. Marie, she says, sang and danced and even appeared in a school musical.
After more than a year, Weaver was just weeks away from completing the formal adopting process for Marie when the state agency decided to place the child with her biological family.
New dragons arrived in that aftermath, she says; dragons of betrayal and panic at having the agency take Marie from her.
"I buried myself in work, I tried to hide my rage at the agency," she told the club. "And my dragons kept getting bigger."
Weaver says dragons can get to the point they're too big to chase away. "They have one purpose, to steal your joy and peace."
For her, slaying the dragons involved being honest with God and herself and reading her Bible more consistently. "The only way to know God is to spend time with his Word," she says.
Weaver says it's also important to find a creative outlet. In her case that involved dance classes, first as a student and now as an instructor.
The bottom line, she says, is that Jesus Christ is the ultimate slayer of spiritual dragons. "Trust Him to back you up," Weaver says. "God is bigger than all of them."