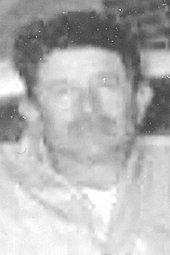 Cristobal Garcia, 88, a longtime Sunnyside resident, passed away on Thursday, Aug. 15, 2013, at Yakima Memorial Hospital.
Cristobal was born Nov. 16, 1924 in Taft, Texas, the son of Jesus and Geronima (Martinez) Garcia.
On Dec. 21, 1949 he married Gumersinda Espinoza in Sabinas Coahuila, Mexico. The Garcia family lived in Mexico before moving to Sunnyside in 1965.
Cristobal worked as an irrigator for Earl and Roger Hull until he retired at the age of 72. Cristobal was a very hard working man and passed that work ethic on to his children. He also taught himself how to read and write. He was a man that could not sit still, always keeping his mind and hands busy, be it working, creating or inventing something. He was never idle.
He loved spending time in his flower and vegetable garden.
Cristobal cherished time spent with his grandchildren, great-grandchildren and great-great-grandchildren.
He was a member of St. Joseph Catholic Church in Sunnyside, and last but not least was a Seattle Mariner fan.
Cristobal is survived by his wife, Gumersinda Garcia of Sunnyside; eight children, David Garcia, Martha (Catarino) Castillo, Paula (Enrique) Mercado, Cristobal Garcia Jr. and Diana (Jason) Lyczewski, all of Sunnyside, Elsa (Raul) Villarreal and Jaime Garcia both of Prosser; and Lidia (Harland) Lippold of Benton City; 12 grandchildren; seven great-grandchildren; three great- great-grandchildren; and one brother, Lorenzo Perez of Mexico.
He was preceded in death by his parents; two brothers; and three sisters.

Viewing and visitation will be held Thursday, Aug. 22, 2013, from 8:30 a.m. to 12:30 p.m. at Smith Funeral Home in Sunnyside, with graveside services to follow at Lower Valley Memorial Gardens in Sunnyside at 1 p.m.
Those wishing to sign Cristobal's on-line memorial book may do so at www.funeralhomesmith.com.
Smith Funeral Homes Ltd. and Crematory in Sunnyside is in charge of arrangements.
More like this story