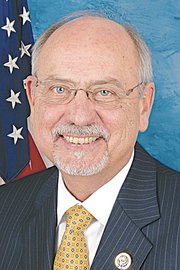 Other than a family reunion in Portland, Ore. this past weekend, U.S. Congressman Doc Hastings is using the summer break from Washington D.C. to visit the folks he represents. It's no small task, as his constituents live from as far south as the Columbia Gorge to as far north as the Canadian border.
Recent redistricting efforts have expanded Washington state's Fourth Congressional District, which now includes most of Central Washington. Most notably, the district Hastings now serves takes in just about all of Okanogan County.
Hastings, during a swing through Sunnyside last Thursday, conveyed those Fourth District folks from northern Okanogan County generally have the same concerns as the people from this area.
He explained there are a lot of timber interests in the Okanogan County area, and they have a thriving fruit industry, "…a lot of orchards like we have here in the Yakima Valley," he said.
The U.S. House of Representatives' summer recess, which began Aug. 2 and extends to Labor Day, allows Hastings the opportunity to traverse the entire region. "It's one of the ways I stay in touch with the people back home," he said of the time he spends on Washington's roadways each summer.
A businessman from Pasco before being elected to office, Hastings welcomed any and all questions during his stopover at the Daily Sun News office late last week.
Queried about the public's perception that there appears to be little, if any, compromise between the two sides of the aisle, Hastings admitted the country is "…pretty well divided on the big issues.
"And that is represented in D.C.
"There are big differences of opinion on some of the big issues," Hastings said.
What isn't spotlighted, however, he noted is that two-thirds of the legislation that makes its way through the House and Senate chambers is approved by near unanimous measures.
"But that doesn't make the news," the Republican lawmaker said of the give-and-take across political lines.
As an example, he noted that he and Democratic Sen. Ed Markey of Massachusetts "…couldn't be further apart philosophically."
Yet, Hastings pointed out the two men worked hand-in-hand in crafting legislation to address a recent nationwide helium shortage.
"The federal government had been stockpiling helium for 80 years," Hastings said, explaining the two bridged party lines to help solve the problem.
"We're back in Wash-
ington D.C. to try and do the people's business," said Hastings. "It's just that a lot of the time you don't hear about it."
Asked about last week's U.S. Court of Appeals ruling that mandates the Nuclear Regulatory Commission begins processing the license application to make Yucca Mountain a nuclear waste repository, Hastings said it has long been the mood of the U.S. Congress that the Nevada site is to be used in that fashion.
When the ruling was issued last Tuesday, Hastings said the court order should be implemented without delay, noting that ongoing efforts by the Obama Administration to circumvent Yucca Mountain should stop immediately. Hastings also expressed concern about resources being spent on interim storage sites and waste studies "…that are being used as nothing more than tools to continue their illegal shutdown of Yucca Mountain."
Last Thursday in Sunny-side, Hastings elaborated and pointed out that Sen. Harry Reid (D-Nevada) has been one of the key figures in keeping Yucca Mountain from being used as a waste disposal site. It's anticipated that Reid, said Hastings, will use his position to continue to slow down the process.
Most frustrating to Hastings is that the will of Congress, federal law in this case, has not been carried out.
It's the same sentiment that the U.S. Court of Appeals judge cited in ruling that the licensing process be started by the Nuclear Regulatory Commission. Specifically, the judge wrote that the nation's Constitutional system of separation of powers would be significantly altered if the executive branch of government and independent agencies were allowed to disregard federal law, as in the manner asserted in this case by the Nuclear Regulatory Commission.
Hastings said it's extremely frustrating when the Administration or federal agencies over-step their bounds, when they assume to have more power than they really are supposed to have.
By the same token, when asked about the recent trend of some political affiliates and agencies attempting to label obesity as a disease – and legislating the types of foods, and quantities, people can consume – Hastings said he clearly is not in favor of the federal government imposing restrictions on Americans' lifestyles.
"We're not in the business of mandating people's diets," he said.
In regards to the approaching deadlines of the Affordable Health Care Act (Obamacare), Hastings believes trouble is on the horizon nationwide.
"There's definitely the potential there for a lot of problems," Hastings said.
He agreed time will tell, but is not at all optimistic the country can financially bear the burden of carrying out Obama's plan to have all Americans covered with medical insurance.
"I voted against it, but it got pushed through.
"In 2012 the American people had a choice," he said of Obama being re-elected to the White House. Soon, he intimated, the nation will learn if the choice they made in 2012 will benefit them or…