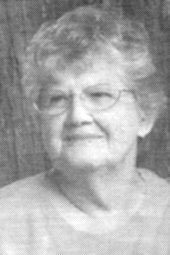 Lucrella Elizabeth "Betty" Cooper, 82, of Sunnyside, a loving wife of Jack Cooper, mother, grandmother and great-grandmother, died on Tuesday, Aug. 6, 2013. She is in heaven with her parents, brothers, Charles and Audress Jr., and her baby, Steven.
She was born Sept. 23, 1930, in Vicksburg, Ind. to Audress and Ruby Harrel. In 1936 Betty, her parents and three siblings loaded everything they owned in the family Model "A" and headed west, eventually landing in Grandview for a few years then to a farm in Sunnyside.
It was in Sunnyside that Betty met a boy from Texas, Jack Cooper. After graduating from Sunnyside High School, Betty and Jack were married on Nov. 5, 1948.
In 1950 Betty and Jack lived in Texas, where Jack Jr. was born. They returned to Sunnyside, where James Micheal "Mike" and Kathryne Mae "Kathy" joined the happy clan. During their time in Sunnyside, Betty worked at Sunnyside Community Hospital.
In 1960 Betty and Jack moved to Puyallup, where Ruby Elizabeth "Beth" joined the family.
In 1965 Betty and Jack moved their family to Edmonds, where Jack became the Fire Chief and Betty worked in the payroll department at Stevens Hospital, retiring in 1979. While working full time she still made sure she was at each one of her children's music concerts and athletic events.
After retirement, Betty and Jack spent time in Christian camping ministry in many parts of the country. In her later years, she traveled around the country with Jack visiting family, spending lots of time with the children, grandchildren and great-grandchildren she loved so, managing to get to graduations, concerts, weddings and celebrations of childbirth.
Even while traveling, Betty and Jack continued their camping ministry, settling at Camp Berachah when her health began to fail.
Betty is survived by Jack, her husband of nearly 65 years; sons, Jack Jr. (Karen) of Surprise, Ariz. and Mike (Chrystal) of Edmonds; daughters, Kathy (Dale) Kagey of Bremerton and Beth (David) Steeves of Neenah, Wisc.; one sister, Laura Forgey of Sunnyside; 12 grandchildren; and 18 great-grandchildren.
A celebration of Betty's life was held Saturday, Aug. 17, 2013, at Faith Church in Kent.
Betty always wanted children to come to know Jesus at camp. Her family has established and asks that in lieu of flowers contributions be made to "The Betty Cooper Camper Scholarship Fund," c/o Camp Berachah, 19830 S.E. 328th Place, Auburn, WA 98092.
Smith Funeral Homes Ltd. and Crematory in Sunnyside is in charge of arrangements.
More like this story