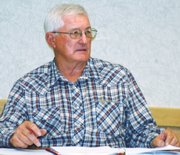 Port of Sunnyside officials set an optimistic tone for 2014 last night with a preliminary budget that anticipates the possibility of land sales for business expansion in the area.
"We have incorporated potential sale of land into this budget since we have received an increased number of inquiries regarding availability of parcels for sale," Finance Director Carol Carter noted to port commissioners Monday night.
"While this is by no means a guarantee that any parcels will be sold, we have planned for the possibility."
Carter anticipates the possibility of $1.53 million in port land sales during 2014.
In another positive indicator for next year, she suggested to port commissioners that upwards of $325,000 in grants and loans for port projects may be in the offing for 2014.
Speaking of projects, the 2014 preliminary budget anticipates nearly $1.1 million in capital investments on port properties, ranging from $250,000 for work on the former Carnation plant site to $45,000 to re-roof the former Horizon building which now serves as the port's business office. Portions of the building are also leased out to other local businesses.
Carter noted the early proposal for the 2014 general fund, which primarily covers day-to-day expenses, is $2.8 million, up by about $300,000 from 2013.
She says $14,000 has been set aside in next year's general fund budget for 50th anniversary celebrations the port will have in 2014. She says the port doesn't yet know the scope or venue of next year's celebrations to mark the Port of Sunnyside's 50th anniversary. The idea, Carter said this morning, "…is to at least have money in the budget to do something."
The port's other significant budget year-in and year-out is its industrial wastewater plant's fund. Carter pegged that with a preliminary figure of $4.4 million for 2014, up about $250,000 from 2013.
That budget, Carter notes, includes construction and operation of an anaerobic digester. Expected to be up and running next year, the digester is expected to double the Port of Sunnyside's wastewater processing capacity.
Given that there's still nearly three months before Port of Sunnyside commissioners hold a public hearing on the 2014 budget, Carter says there could be tweaks as 2013 draws to a close.
"This is a first draft," she told commissioners last night. "As we get more information we may change some numbers."
John Fannin can be reached at jfannin@dailysunnews.com or at 837-4500.