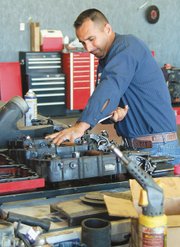 A few years ago Joel Gonzalez decided he was ready to run his own shop and started Empire Heavy Equipment Repair, providing around the clock service.
"We do a lot of semi-trucks," he said. "We go out to WalMart Distribution Center, truck stops and scale houses."
Gonzalez graduated from Sunnyside High School after moving to the area as a teenager. Much of his family now lives in the area, including his parents, a brother and four sisters.
He and his wife are now raising three sons, ages four, six and eight.
He has a cornfield at his home along with a couple of horses.
"I ride a little," he said.
He enjoys fishing and camping, hobbies he hopes to share with his sons as they grow older.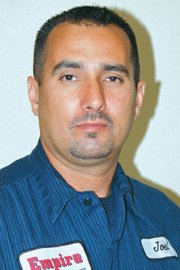 Gonzalez started on the road to becoming a mechanic in 1996. He went to tech school and worked for Caterpillar in Phoenix for a few years. After returning to the Sunnyside area he worked for Precision Ag before deciding to start his own business.
"I was just ready," he said. "I was running the shop at Precision Ag. I knew I could do it."
The business is doing well, according to Gonzalez.
"We're doing pretty good," he said. "We've got three mechanics."
In addition to fixing semi-trucks, the company works on other heavy equipment such as tractors, loaders and mixers. He said the company also fabricates its own parts, as well.
Empire is also offering truck alignments now for semi-trucks and trailers.
‑ Laura Gjovaag can be contacted at 509-837-4500, or email LGjovaag@DailySunNews.com