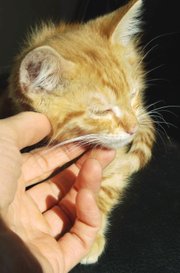 Sunnyside Walmart store manager Kimberly Pierce and her sales associates are proud to announce a $1,000 donation to Prevent Homeless Pets.
Prevent Homeless Pets is a local non-profit that provides affordable spay and neuter surgeries for cats and dogs of low income qualified individuals. The organization also reduces community cat over-population through trap/neuter/return programs. These programs are considered a humane and effective tool in successfully managing feral and abandoned cat populations.
Prevent Homeless Pets has been active in the Benton County area of the Lower Valley since June of 2009 and has spayed or neutered more than 6,000 animals in that time.
The grant came about after LeeAnna WhisperingHorse, a local animal advocate, spotted feral kittens at Walmart and asked permission to attempt to trap them. Pierce suggested requesting a grant to make a bigger impact on the community.
"Out of a bad thing, a good thing is coming," said WhisperingHorse. She said the problem with stray cats in the Lower Valley is enormous.
"It's an overwhelming situation," she said. "But sometimes moving past the powerlessness of it all and taking one action can start the process of making things better."
The Walmart grant will pay for the spay/neuter surgeries of 50 cats in the Lower Valley area.
For more information contact Prevent Homeless Pets at (509) 375-4024, info@preventhomelesspets.org or visit the website at preventhomelesspets.org.
The Humane Society of Central Washington also sponsors clinics in partnership with the Feral Cat Spay Neuter Project to provide spay and neutering of feral and owned cats of low-income households. Visit yakimahumane.org/SNYP.html or call 457-6854 for more information about the program.