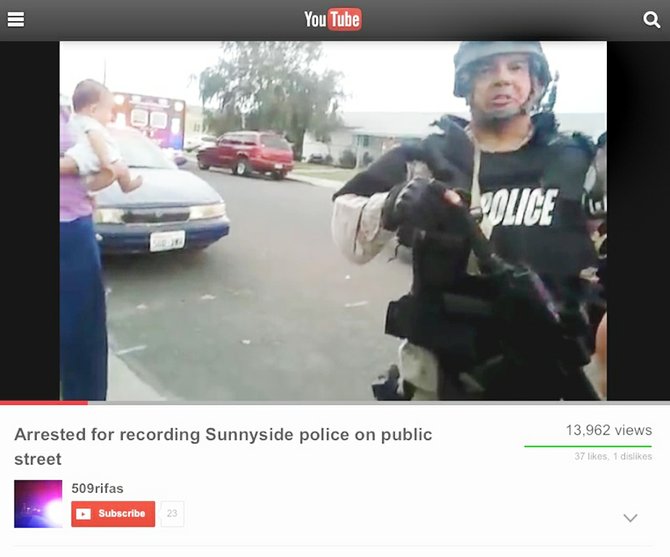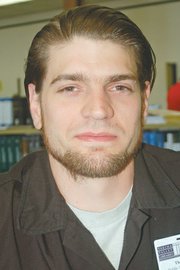 A man's right to video tape a Sunnyside police SWAT team raid has been upheld by Sunnyside Municipal Court Judge Steven Michels.
Michels dismissed an obstruction of a law enforcement officer charge brought against Thomas C. Warren of Sunnyside, after Sunnyside Deputy Police Chief Phil Schenck and City Prosecuting Attorney Kenneth W. Raber agreed to withdraw the charges.

The case appeared before Michels in arraignment court yesterday morning (Tuesday). Warren's case was taken out of order in the morning's parade of traffic violations after Schenck entered the courtroom and spoke with the city's prosecuting attorney.
Raber, representing the city of Sunnyside, asked the judge to dismiss the obstruction charge without prejudice. The judge said the obstruction charge, a gross misdemeanor, carries a maximum sentence of 364 days in jail and a $5,000 fine.
"We made a mistake and we own it," said Schenck, noting that the charges against Warren should never have been made.

"Mr. Warren has a perfect right to video tape police officers in public, as per the ruling in the U.S. Ninth Court of Appeals," admitted Schenck.
Warren, a 28-year-old librarian aide in Sunnyside, was cited Aug. 10, on charges of obstructing a law officer, after he was told to stop video taping a SWAT officer raid. Warren was detained and spent approximately 30 minutes in handcuffs while the SWAT team continued its search of a house they suspected of housing gang activity.
At the time, local police said they believed a suspect might have been inside the house, where it was known there were guns. The suspect, who was not located in the house, was being sought in connection with a theft of a Sunnyside School District laptop. The laptop was recovered and the police later determined that all of the 11 guns inside the house were legally owned.
According to Schenck, the house has a history of gang activity, but the police department's data base hadn't revealed any gang activity at that location in the past two years.
While Warren said he wasn't surprised that the case against him was dismissed, he is still considering suing the city. Warren, who thought he had been arrested for videot aping the officer, later learned that the charge had been amended to violating a police perimeter, which reportedly had been set by the SWAT team.
"I found that strange, since I had walked by another police officer who only asked me to move to the other side of the street. But I wasn't told there was a police barrier in place," Warren said.

Warren said he was standing well away from the action. "I wasn't interfering with the officer's job. He left his post to approach me," Warren explained.
Schenck said the perimeter barrier was not clearly defined and there were other people inside the police perimeter, and, as Warren noted, none of them were arrested.
"The perimeter line was fuzzy," Schenck admitted.
Schenck said the perimeters are normally set by having police cars at either end of the street with lights flashing.
"Our officer (at the scene) was incorrect in saying Warren didn't have a right to video tape a public action," Schenck explained.

When asked by the officer at the scene, identified as Sgt. Oliver Hernandez, to stop video taping, Warren complied, but he was still detained and arrested. The video tape, which was later uploaded to YouTube, clearly shows the officer confronting Warren, saying "stop video taping me or I'll arrest you."
Warren believes that uploading his video tape of the incident on the popular internet YouTube space, (www.youtube.com/user/509rifas?feature=watch), may have factored in having his case dismissed. But being detained by Sunnyside police is not a new occurrence to the self-proclaimed community watchdog.
"I've been video taping police action for about two years. At first I was just doing it for my own amusement, but now I wish I had not turned off the recording when I did (on Aug. 10).
"It seems to me that people are being detained on an increasing regular basis. It's happened to me a number of times, but not just to me but to anyone who is out after dark," Warren said.
Schenck said he plans to have a representative from the Yakima County Prosecuting Attorney office conduct some training on Constitutional laws and citizens' rights, as well as search and seizure laws in the coming weeks. He declined to say if Sgt. Hernandez would face any disciplinary actions in regards to the incident.
"I believe it was a misunderstanding of the law," Schenck said.
In the meantime Warren said he will continue to video tape things he finds of interest, and "…perhaps more openly.
"I encourage others to also do so, just to protect their rights," he said.
‑ Julia Hart can be contacted at 509-837-4500, or email JHart@DailySunNews.com