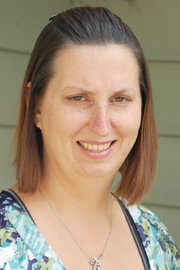 MABTON — With three children attending classes in the Mabton School District, Wendy Morrow has a vested interest in the district's success.
She's not just interested in the school district, she's also becoming an active participant. That includes a decision last week to file for a vacancy on the Mabton School Board.
The vacant position attracted no candidates back in May and during a special filing period last week, Morrow decided it was time to seek a post on the board.
As the only candidate on the Nov. 2 general election ballot, she's pretty much a lock to take her seat on the board in January. In fact, she's already preparing for that time by attending a "boot camp" for new school board members this coming November.
Morrow and her husband Jason moved to the Mabton area from Colorado two years ago. She says it has been like "coming back home," as Jason hails from Granger originally.
Morrow appreciates Mab-ton's small-town life and says the teachers have been helpful. She's also excited about optimism at Mabton Jr./Sr. High School with the arrival of new principal Caleb Oten.
But as the parent of three children in district schools and a fourth soon-to-be, Morrow feels she can help the board be more communicative with families in the Mabton School District.
"I was kind of unhappy a year ago when the uniform policy came into place," she says. "I felt there was a better way to handle the situation."
Morrow says her goal is to be a link between the board and other parents in the Mabton School District.
"We really need a clearer communications path," she says of parents and the board connecting.
Morrow works in Top-penish as an accountant with the Yakima Valley Farm Workers Clinic, and says her employer offers flexible work schedules to ensure her attendance at the monthly school board meetings.
With her financial background, Morrow says she's also interested in helping out however she can when it comes to drafting a budget next summer.
"If things need to be cut, I'm hoping my experience will help us think outside the box."
- John Fannin can be reached at 509-837-4500.