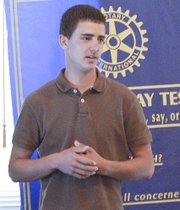 Alex Brouwer returned to the Sunnyside Noon Rotary Club Monday afternoon as a guest speaker. Brouwer, who graduated from Sunnyside Christian High School this past summer, had served as a student representative to the club for two years.
His return was marked by good attendance as Brouwer gave a presentation on a mission trip taken by the Grandview Church of the Nazarene to Tucson, Ariz.
Brouwer said the group was joined by the West Valley Church of the Nazarene, making a total of about 30 youths. The teens drove to Arizona to spend a week painting churches and providing vacation Bible school events to neighborhoods in the area.
Brouwer said the group under-estimated the time it would take to reach Tucson from their first overnight stop in Utah and ended up arriving about three hours late. Despite their exhaustion, the students got up early the next morning to start the projects they'd committed to accomplishing.
"The goal of the trip was to help unite the Spanish-speaking and English-speaking churches in the area," said Brouwer.
They started with simple painting, working on the interiors of two Spanish language churches and a local parsonage. Each day some of the youths visited local residents to help with smaller projects, including yard work.
Each evening the group went out to local neighborhoods and put on events that included games and food.
"We learned that going out into the communities and inviting people was more successful than if we just invited them to vacation Bible school," he said. "It's more effective to go where they are."
Brouwer said the entire group also learned patience as they endured the long drive down and back.
He did say the youngsters lucked out in regards to weather. The usual 110 degree heat of Tucson was a balmy 90s for the duration of the group's late July visit.
Brouwer will be leaving Sunnyside next week for California, where he plans to study at Azusa Pacific University to become a youth pastor.
‑ Laura Gjovaag can be contacted at 509-837-4500, or email
LGjovaag@DailySunNews.com