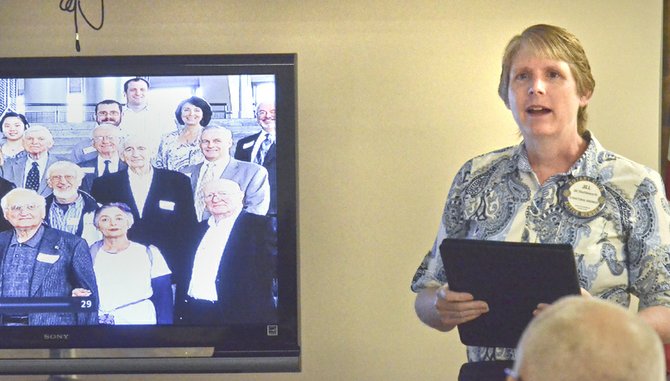 In 1962 Seattle hosted the World's Fair. Structural engineers with the Structural Engineers Foundation of Washington were a large part of the process that made it so unique.
That's according to today's Sunnyside Daybreak Rotary Club speaker Jill Shuttleworth, a local engineer.
She said the Structural Engineers Foundation of Washington last year celebrated its 50th anniversary, honoring the pioneering engineers that helped design Seattle icons like the Space Needle, Key Arena, the monorail and Pacific Science Center.
Nine of the original structural engineers were honored at the gathering, which also led to the development of a short pictorial documentary of the development of each of the architectural designs featured at the World's Fair.
The World's Fair drew approximately 10 million visitors to Seattle in 1962. Many of the structures featured at the time were innovative, using techniques that weren't widely used elsewhere, according to Shuttleworth.
The engineering of the Pacific Science Center, known as the U.S. Science Pavilion in 1962, led to the teaming of engineers from Worthington, Skilling, Helle and Jackson with architect Minoru Yamasaki. The engineering firm would team up with the architect later to design the World Trade Center in New York.
"It's interesting to see the innovations," Shuttleworth said of the short documentary.
She said a longer documentary is in the process of being created as well. That documentary will be available for everyone to see in the next couple of years.
"The Space Needle is probably the most iconic structure," Shuttleworth told the Rotary Club members, stating the monorail is the most used engineering feat of the features designed for the World's Fair.
The structural engineers who were involved in creating some of Seattle's most well-known structures have influenced the engineering profession, she said.
Featured in the documentary will be engineers Richard Chauner, John V. Christiansen, Gary Noble Curtis, Victor O. Gray, Norman G. Jacobson, Thomas Kane, Robert Mast, Frederick Pneuman and Einar Svensson.
‑ Jennie McGhan can be contacted at 509-837-4500 or by e-mail at jmcghan@dailysunnews.com.