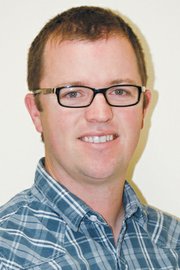 After six years of college, Marcus Miller realized that he really wanted to learn how to make wine.
He'd studied business finance in Illinois and Texas, but it was the brand new teaching winery at Walla Walla College that drew him back home and gave his family a new branch of their business.
Miller's parents and uncle own Airfield Ranch, and Miller grew up in Sunnyside working in his family's vineyards. He graduated from Sunnyside High School in 1996 before heading off to college.
In 2003 with a couple of degrees to his credit, he attended conferences in Washington and realized the opportunities for winemaking were growing in the state. He enrolled at the viticulture and enology program at Walla Walla Community College.
"Winemaking is a hands-on sort of craft," he said. "You need to have that time actually making wine before you know what you are doing."
Miller finished his degree in one year, graduating with the second class from the new winery. He was quickly hired by Tsillan Cellars in Chelan and worked as the assistant winemaker.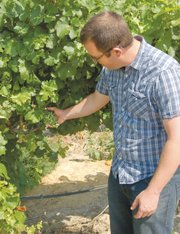 His boss, Katie Smith, urged him to get experience making wine in New Zealand, so he spent some time at Montana Brancott Winery in Marlborough, New Zealand before returning to Tsillan for another three harvests.
"My dad was keeping track of my efforts," said Miller. "He decided with my experience that 2005 was a good year to start a winery."
Airfield Estates in Prosser was born, with 10 tons of grapes harvested, all reds, and the wine made at Willowcrest Winery. By 2007 the new winery was ready to begin retail sales.
"We didn't want to open our doors and have no wine, so we waited until we had a couple of harvests under our belts," said Miller.
They debuted their wine in 2007 at the Spring Barrel Weekend tasting event, but couldn't legally sell their wine until the permits came through.
"We finally got everything in place and could sell Friday night," he said. "It was difficult during that day, telling people we couldn't sell just yet."
Miller said the family originally considered putting the winery out on the ranch, but decided to find a place nearer the freeway.
"We wanted to be accessible to people," he said. "It's been a great decision."
The Prosser winery has grown every year and it now uses 660 tons of grapes in many varieties.
Miller's family has also grown. He married in 2009 and now has a 14-month-old daughter.
He's also maintained a love of sports, playing pickleball regularly and winning his football fantasy league four times.
‑ Laura Gjovaag can be contacted at 509-837-4500.