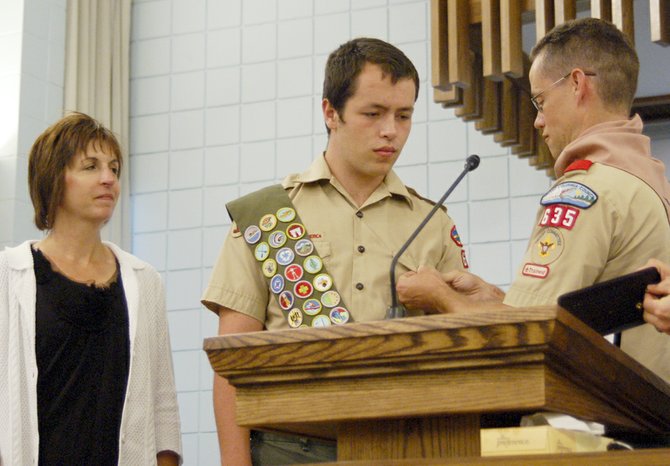 Avery Gardner was surrounded by friends and family Sunday night as he was awarded the highest honor in scouting.
Gardner started on his path to become an Eagle Scout when he was eight years old, joining troop 635 of the Boy Scouts of America, sponsored by the Church of Jesus Christ of Latter-day Saints in Sunnyside.
His Eagle project involved recording books to CDs for kindergarteners so the children can read along as the CDs play. He said the planning took months, and actual recording involved about 150 man-hours.
"I set up times for people to come and record," he said. "It was mostly people from the church who came to do the work."
At the ceremony, previous scoutmasters and leaders praised his determination and persistence in reaching Eagle Scout. Gardner repeated the oath of the Eagle Scout with current scoutmaster Sean Quigley.
The award was pinned to his chest by his father, Dylan, as his mother watched. Gardner's father served as his scoutmaster for a couple of years and praised his son's work.
"As scoutmaster I had someone I knew absolutely I could depend on," he said of his son. "His backpack was heavier than any of the other packs except my own. And he carried the burden."
Avery Gardner, who graduated from Sunnyside High School this past June, will be heading to Gilbert, Ariz. on a mission for his church next month.
‑ Laura Gjovaag can be contacted at 509-837-4500, or email LGjovaag@DailySunNews.com