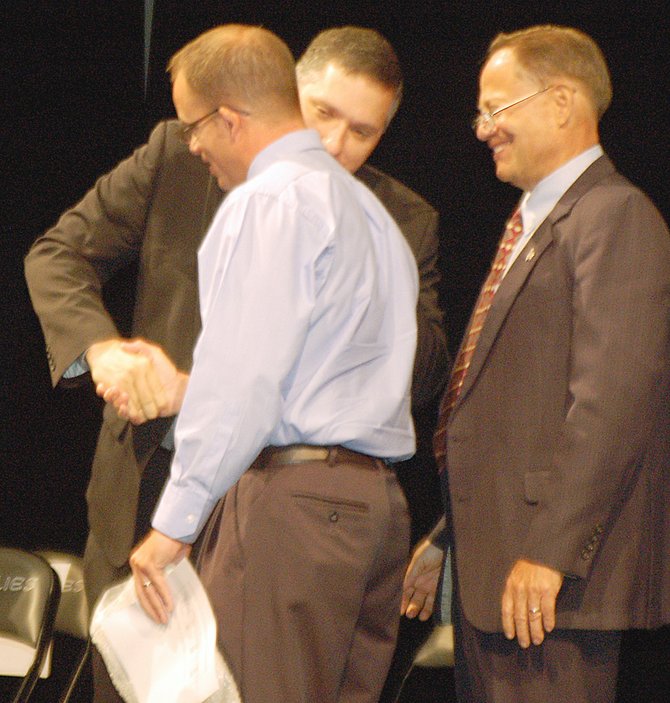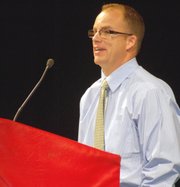 Joshua Schlegel, a Mabton native and math coach at Harrison Middle School in Sunnyside, this morning was honored as ESD 105's Regional Teacher of the Year for 2013-14.
The surprise announcement came Monday morning during a meeting at the SHS auditorium for Sunnyside School District employees.
In comments to the district's 700 or so staff members this morning, Schlegel said the honor results from the "…combined efforts of everyone."
He praised elementary school staff for helping students be more ready than ever by the time they reach middle school. "We're realizing the fruit from the work in the elementary schools."
Schlegel, who was made aware of the award prior to this morning's event, noted staff at Harrison and Sierra Vista middle schools are all working hard towards student achievement.
"I'm proud to be part of Team Sunnyside," he smiled.
Schlegel joined the Sunnyside School District in 2007 as a math teacher at Harrison, then entered his current position as a math coach in 2009 at a time when the school was experiencing significant challenges in student math achievement.

"Through his collaborative leadership efforts with staff to revolutionize the school's math program, Harrison Middle School's math scores went from being ranked among the Washington Achievement Index's bottom 14 percent to leaping into that scale's top 4 percent in a span of just two years," noted Steve Myers, superintendent of ESD 105, which serves schools in Yakima, Klickitat, Kittitas and Grant counties.
In 2012, Schlegel received a Golden Apple award from the Sunnyside School District as the secondary teacher of the year.
Schlegel led Sunnyside staff in redeveloping the school district's math curriculum for grades six through eight.
In his first year as math coach during the 2009-2010 school year, Schlegel introduced an Algebra 1 course for eighth graders. Today, nearly 55 percent of Harrison's eighth graders are enrolled in algebra, with nearly 80 percent of those students passing their end-of-course exam.

Just a few years ago, only 12 percent of Sunnyside's students district-wide were meeting standards in algebra 1, and none of those students were from the eighth grade.
Under Schlegel's intervention work, the rate of eighth graders at Harrison meeting or exceeding the state's math standards nearly doubled within three years, going from 25 percent during the 2008-09 school year to 42 percent for 2011-2012. Preliminary figures for 2012-13 have that figure for eighth graders at just above 48 percent.
Among sixth graders at Harrison, achievement in the state math standards more than doubled in just a two-year span, going from 25 percent in 2008-09 to 57 percent in 2010-11. And – in the sharpest improvement of all – achievement in state math standards among seventh graders tripled from a level of 20 percent in 2008-09 to a mark of 60 percent in 2011-12.
In his recommendation letter for Schlegel, Harrison Middle School Principal Robert Bowman stated, "What's even more impressive is the change in student perception around mathematics. More students stay after school and/or make up assignments and tests during the regular school day than ever before. In informal surveys we've given to exiting eighth graders, math is consistently one of the top-rated and liked classes offered."
In his application for the regional award, Schlegel wrote, "Results such as these can be the norm rather than the exception. I believe that with proper care, attention and implementation of methods similar to those used within Harrison Middle School, failing schools nationwide have the capacity – utilizing the resources already in existence – to reinvent themselves, to redefine their reality, to transcend the achievement gap, and to provide a world-class education to their students, despite any existing barriers."
In presenting the honor, Myers this morning said he was moved by Schlegel's comments in his application. Myers praised Schlegel's attitude that 90 or 92 percent of students meeting math standards isn't good enough, but that it should be 100 percent.
Schlegel affirmed that in his comments this morning. "A graduation rate of 100 percent is possible. We have the talent to make it happen."
He said his success and positive attitude about student achievement came from his teachers in Mabton. Schlegel recalled how he came from a family situation where college – let alone his dream of becoming a math teacher – seemed out of the question.
But he said Mabton teachers instilled him in a belief that he could succeed and reach his goals.
Today he is not only helping high school students – but those in college, as well – believe in their goals.
That's because in addition to his work at Sunnyside, Schlegel has served as a math instructor since 2008 with both Heritage University and Yakima Valley Community College.

The new ESD 105 Regional Teacher of the Year graduated from Mabton High School and completed his A.A. degree at Yakima Valley Community College.

He earned his B.A. in mathematics and education from Heritage University and earlier this year completed his M.A. in leadership and administration from Gonzaga University with a thesis that examined forces of rapid growth in student math achievement.
Schlegel is one of three teachers from area schools who were nominated last spring by members of their school community and completed applications for this year's regional award. The other candidates were Mt. Adams' White Swan High School instrumental music teacher Jeff Chang and Toppenish School District's Kirkwood Elementary first grade teacher Melissa Brackney.
 Schlegel succeeds Zillah's Jeff Charbonneau – who went on to become 2013's national teacher of the year - as the regional teacher of the year.
Schlegel now advances on to consideration for the state's teacher of the year award, which will be announced Sept. 23 at the Experience Music Project / Science Fiction Museum in Seattle.
- John Fannin can be reached at jfannin@dailysunnews.com or at 837-4500.