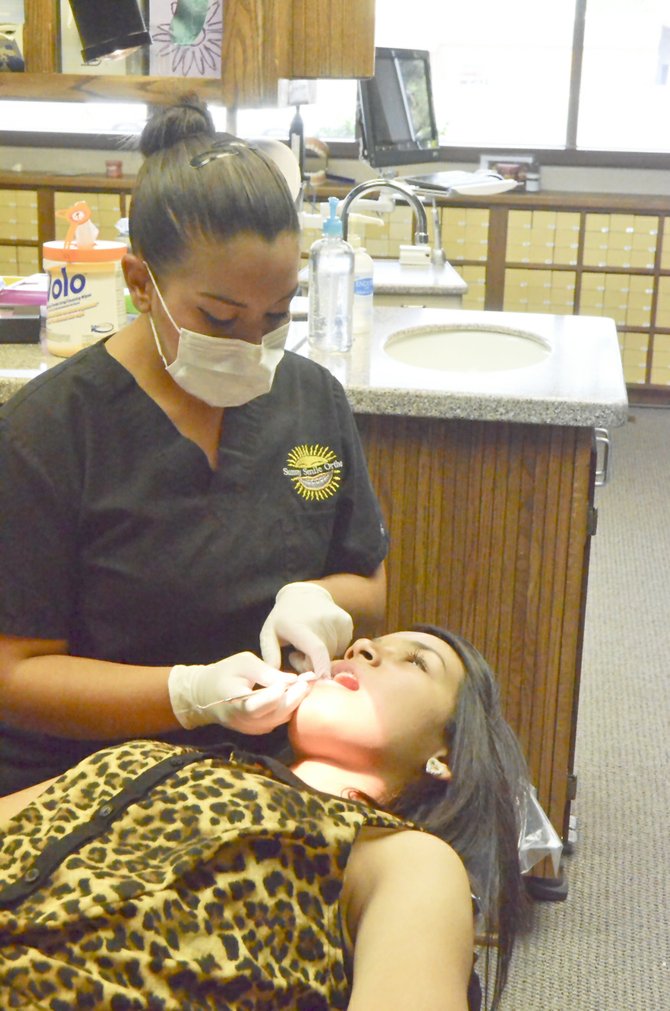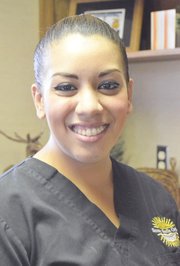 Jessica Guizar didn't plan on becoming a dental assistant for Dr. Jared Condie at Sunny Smile Orthodontics.
She was content living a life of numbers until she began working for the local orthodontist.
"I had an accounting degree," said Guizar, stating she also worked for the Sunnyside School District as a secretary and a cook.
She began working for Condie in financials a few years ago. "I was good at accounting," said Guizar.
Condie saw her potential and asked the young accountant if she would be interested in assisting the clinical staff with patients.
Guizar decided to take the opportunity provided her and found "…I loved it."
Seeing that Guizar was thriving and enjoyed working more closely with his patients, Condie offered her another opportunity.
He encouraged her to return to school to earn her dental assistant's certification.
After pushing herself to meet the new goal, Guizar soon became an intern for Condie and he offered her a full-time position as a dental assistant.
"I was in the right place at the right time," she said.
That was more than two years ago and Guizar said she hasn't regretted the decision.
"I like getting to know the patients...they spend a lot of time here, sharing their lives with us," said Guizar, stating orthodontic patients visit the office every month and a half over the course of a couple of years.
"I get to see them change…I get to see their progress," she said, stating many young patients enter the office at the beginning of treatment unwilling to smile.
As the treatment progresses, Guizar said, the patients begin smiling more. She said their sense of self-confidence blossoms. In the process, the patients' smiles are transformed.
The final stages of treatment can be difficult, though. Guizar said there are some patients who are overeager, wanting their braces removed before they should be.
"That can be hard because you want to help them when they beg, but you can't. You have to encourage them to go the distance," said Guizar, who said she can better relate to those with whom she works since becoming a patient, herself.
She said patience pays off, though. When patients wait until the orthodontic treatment is complete, their smile is more likely to remain than if they remove the braces prematurely.
"I didn't realize it until I had braces, but I used to turn my head in photos so that one side of my mouth could be seen, but not the other," Guizar said, stating until she had braces she was more insecure about her own smile on a subconscious level.
"Now I can relate to my patients better," she said.
"I know the rewards and the sense of self-confidence my patients will have when they are finished."