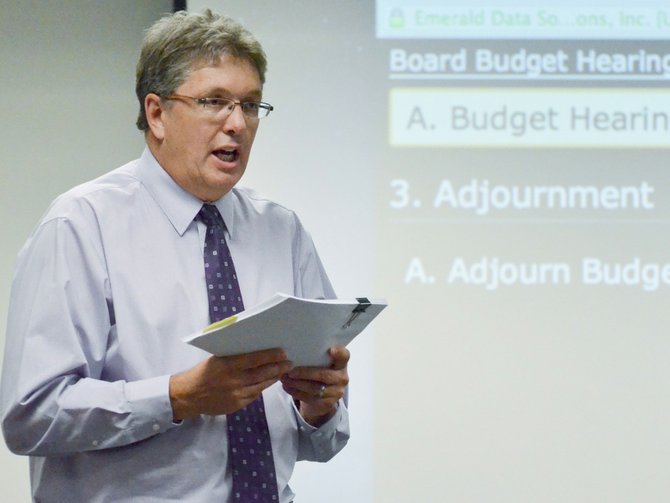 Last night the Sunnyside School Board, after a public hearing, adopted a 2013-14 general fund budget of more than $66.6 million, which is approximately $2 million more than the 2012-13 school year.
Director of Finance Jeff Loe told the school board that 71 percent of the general fund is spent on instructional support. The largest portion of that, more than $35.3 million, is spent on teacher salaries.
Loe said the school district receives state and federal funding based on enrollment counts. It is anticipated the enrollment in Sunnyside will be nearly 6,500 students this school year.
A high school addition is planned this year, increasing the capital projects appropriations to approximately $12 million for the 2013-14 academic year.
The transportation budget, too, is being increased this year to include the purchase of three buses. Approximately $375,000 has been appropriated to transportation.
"We pay bonds out of the debt services fund," said Loe, explaining that the district will spend nearly $3 million on its debts.
The ASB fund for 2013-14 is budgeted at almost $632,000 to pay for student activities.
"We broke down how (general) funds are used…$1.3 million alone is used to pay our utilities," Loe said in giving an example..
In figuring out the costs to educate one child per day in the Sunnyside School District, he said the figure is just more than $59.
Revenues for the general fund come from state, federal and local sources. Loe said 76 percent of the school district's funding comes from the state of Washington. Another 20 percent of the general fund revenues are federal monies.
At last night's budget hearing a brochure explaining the budget was provided. Anyone interested in obtaining a copy may do so by visiting the Sunnyside School District office.
The Sunnyside School Board adopted the budget by a 5-0 vote during its regular meeting.