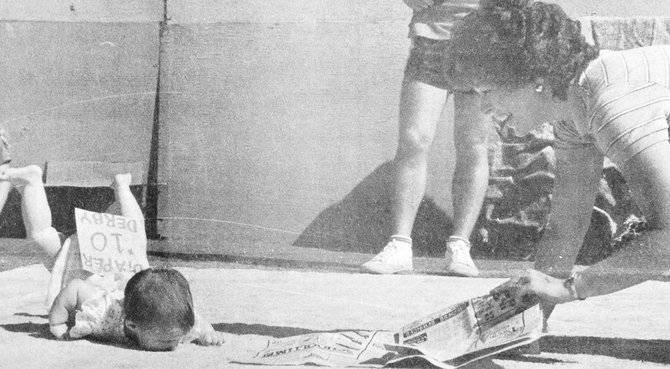 110 YEARS AGO (1903)
The local real estate market had reportedly been dull until word of potential land sales in the Outlook and Sunnyside areas proved the land values had not depreciated. W.B. Williams of North Yakima sold his 92 acres near Outlook to F.R. Stewart of Genoa, Ill., at the cost of $100 per acre.
90 YEARS AGO (1923)
Wendell Phillips School in the Green Valley District gave out five new contracts for the coming school year. Hired were Sarah Shaw, Maude Huntington, Thelma Garlets, Mrs. Mary Sharpe and Mrs. Pearl Sharpe.
80 YEARS AGO (1933)
The first annual gladiolus show was held in Sunnyside at the Higgins Seed Store, under the direction of John Robertson and D.N. Wood. Exhibitors were required to provide their own containers.
70 YEARS AGO (1943)
The Sunnyside American Legion post sponsored a drive to send free cigarettes to military personnel stationed overseas. Efforts to raise money for the cause included a special movie showing at the Sunnyside Liberty Theater. Movie patrons, who attended the midnight movie showing, were assured that their 50 cents admission fees would be donated to help raise the $1,200 necessary to purchase 500,000 cigarettes for the servicemen.
60 YEARS AGO (1953)
Radio theory classes and "on air" contests were the topics discussed at the Lower Yakima Valley Radio Amateurs Club meeting held at the Sunnyside home of Tom Nelson. Following the formal meeting, movies of the group's field day excursion to the Bickleton hills were viewed.
Robert Morgan of Spokane took over ownership of the Planters Hotel from longtime hotel owner William Moultray of Sunnyside. Morgan announced his plans to remodel the hotel and to add air conditioning to the second floor.
40 YEARS AGO (1973)
The Sunnyside School District year started with 4,000 students expected to be seated in classrooms on the first day of school. It was expected that the junior high school would be the most crowded of the district's five school buildings.
30 YEARS AGO (1983)
Three new 1983 police cars arrived in Sunnyside to replace the department's older 1981 models. The newer models, complete with new radios and traffic radar units, were purchased at a cost of $34,000 each.
20 YEARS AGO (1993)
Blanca Rodriguez of Sunnyside was named the director of the Lower Yakima Valley Camp Fire service area office located in Sunnyside. She replaced Sue Trioanello. Rodriguez, a 1989 Sunnyside High School graduate, had plans of becoming a lawyer.
10 YEARS AGO (2003)
President George W. Bush visited Central Washington, making stops at Ice Harbor Dam to examine the region's salmon runs. His visit marked the first time in 30 years that a seated U.S. president had visited Central Washington.