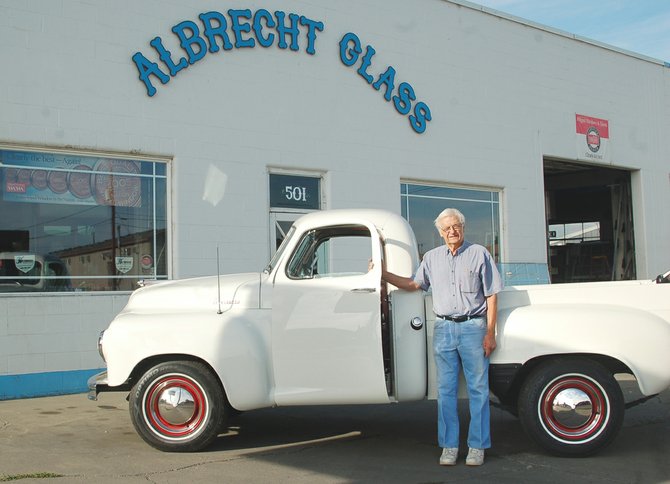 Considering it's more than 60 years old, the shiny little white Studebaker pick-up truck parked in front of Sunnyside's Albrecht Glass looks pretty darn close like it did when it rolled out of the South Bend, Indiana Studebaker assembly line plant in 1952.
The pick-up, which has been carefully restored over the course of the past five years, belongs to Albrecht Glass owner Steve Albrecht of Sunnyside.
"I restored the truck in of honor of Charlie Kauer," Albrecht said.
The late Kauer, a longtime Sunnyside businessman, gave the truck to Albrecht more than 20 years ago.
In restoring the little half ton, Albrecht stuck to the vehicle's original white color and red trim, complete with its glossy chrome hood ornament and hubcaps. The interior of the cab is as close to original as Albrecht could make it.
Kauer was the owner of Charlie's OK Tires, which for years was located in the spot that Albrecht Glass now occupies on Yakima Valley Highway. Chris Albrecht, founder of the family-owned glass business, said he purchased the former tire store and converted it into a glass store in the early 1980s.
"After that the Kauers became a part of our family," Albrecht said.
Charlie and his wife Laura operated their Sunnyside tire store from the 1940s until the early 1980s.

When Charlie finally decided to give the Albrecht brothers, Steve and Tony, the tire company's old vehicles, the Studebaker had 48,000 miles on it. The other vehicle he gifted, to brother Tony, was a 1956 GMC truck. Tony now operates the Albrecht Glass store in Prosser.
Kauer reportedly went back east to take ownership of the sporty little Studebaker and drove it back to Sunnyside, Chris Albrecht said. "That's how they did it in those days," he added.
These days, Steve occasionally takes the Studebaker out to area car shows, but he said, "…mostly I just drive it around in Charlie's memory."
This coming Saturday Albrecht will take his Studebaker to the annual Bickleton Carousel Museum Car Show, where he will compare automotive restoration notes with other classic car owners. The cars will be lined up on Bickleton's Main Street from 9 a.m. until 4 p.m.
"A bunch of us always sit about and brag about our cars," he said, especially the Studebakers, since the show is co-sponsored by Central Washington Studebaker Drivers Club.
"You should come check it out," he invited.