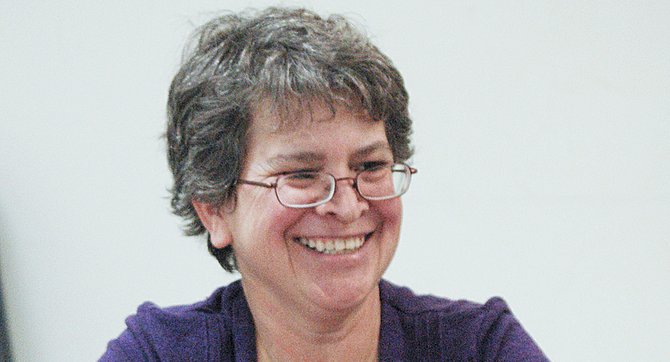 Growing up in Sunnyside, Merri Prudich often escaped into imaginary worlds, creating whole galaxies filled with characters living out all types of adventures.
"It was difficult for me to talk to people because of my speech impediment, so I resorted to my active imagination to create characters that could do the things I couldn't," she explained.

The Sunnyside native said she started writing stories when she was in the fifth grade. Now, Merri Halma, who lives in Nampa, Idaho with her husband Kevin Halma and son James, is turning her stories into novels. She has also started her own publishing company to distribute her books.
"I began writing seriously about 15 years ago," she said. "And, I find I am a very different sort of writer," Halma said.

She describes herself as an experimental writer who may seem a bit out there.
In Sunnyside last week to visit her husband's family during the Thanksgiving holiday, Halma took time to promote the release of her newest novel, Indigo Traveler.
She is currently promoting her novel and to find it outlets for future sales.
She noted her books are in select book stores in the Nampa area, but she is hoping to also find Yakima Valley outlets.
"Indigo Traveler is my second book," she said.
"I'm very proud of Indigo Traveler, and I'm hoping the public likes it, as well," she said.
Halma's first novel was based on the bedtime stories she used to tell her son. Although currently out of print, she said there are still used copies of the book Jamie and the Magic Digger -Journey to Senlinola, which is still available on Amazon.com.
The 1978 Sunnyside High School graduate describes her newest book as a fantasy, filled with spiritual, mythological, philosophical and metaphysical symbolism. She says the characters are a mix of animals with human characteristics and humans with special gifts. There are threats of wars, friendly minotaurs, hostile dragons and the Indigo Traveler, who is the hero, of course.
"I think it can best be described as a "Greek myth meets Lion, Witch and the Wardrobe," said her husband Kevin, who is also a Sunnyside native.
"All that is required to read it is an open mind," he added.
The author, who attended Heritage University, earned her Bachelor's degree in interdisciplinary studies in humanity and her Master's degree in science counseling and psychology. She said the book is suitable for all reading levels, youth through adult.
She formed her own publishing house, Dreaming Lizard Press, to help get the book out to the reading public. Halma's book is also available at Amazon.com and Kindle.