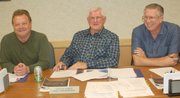 Port of Sunnyside commissioners will change their duties as of Jan. 1.
During Monday night's meeting, the commissioners approved its election of officers and meeting dates schedule.
As a result, Commissioner Jim Grubenhoff will step up as commission president, replacing Arnold Martin, who will assume the secretary role. Jeff Matson will step up to be the board's vice president.
In setting its schedule of meetings for the coming year, the commission will meet the first and third Monday of each month at 5:15 p.m. at the Port of Sunnyside office, 2640 E. Edison Ave., Suite 1, unless otherwise announced.
The commission also approved Port Executive Director Jay Hester and finance officer Carol Carter as investment officers for the port, and authorized Hester and Carter to make inter-fund transfers, as part of the commissioners' year-end housekeeping resolutions.