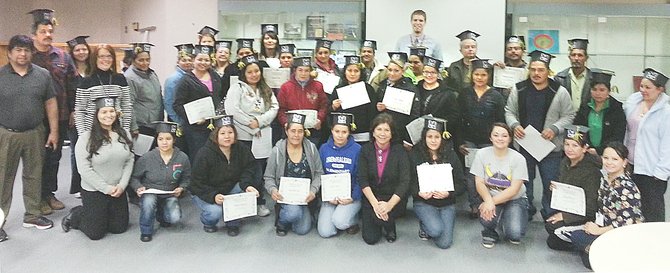 MABTON – A dedicated group of parents celebrated their own graduation last week after attending the Mabton Parent Academy throughout November to learn how to support their children in graduating from high school and attending college.
The 32 parents received a certificate and marched to the tune of Pomp and Circumstance while their children watched.
To graduate from the program, parents had to attend three sessions. The first taught them about the high school graduation requirements for their children. The second session was about the options their children have for education after high school. The third session walked parents through ways to pay for college.
Armed with this knowledge, the parents will be traveling to the University of Washington this Thursday, Dec. 5, to tour the campus and get a feel for college life.
The academy was a collaboration between the Mabton School District, High School Graduation Initiative, GEAR UP and YV-CAN. The goal of the program is to involve parents in their children's educational process and help them understand that college is attainable and a viable option for their children.