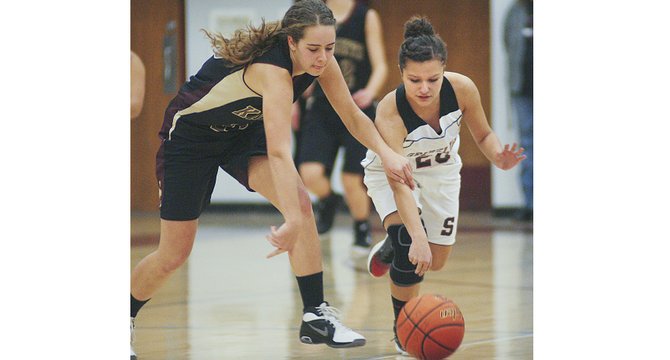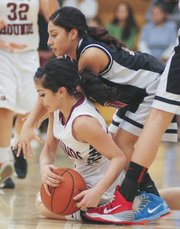 GRANDVIEW – The final scores may not count in the season standings, but the Sunnyside Lady Grizzly basketball team appears to be building on last year's success.
The Lady Grizzlies came away with two jamboree victories last night, Monday, in Grandview.
Playing shortened, non-regulation length contests, the SHS girls basketball team knocked off Sunnyside Christian, 26-14, and easily dispatched the host Lady 'Hounds, 49-11.
In the win over 1B Sunnyside Christian, Sunnyside Coach Rick Puente said his team got the shots it wanted, "…but they weren't falling.
"There were some butterflies out there that first game," Puente said. "We were trying to get our legs underneath us."
Being under-sized, Puente said his Lady Grizzlies had to play an aggressive style of defense against Sunnyside Christian. "It ended up creating some turnovers for us, which led to some points," he said.
Scoring-wise in Monday evening's opener, Summer Hazzard led the way for Sunnyside in the first half, when the two teams' JV units took the floor. Hazzard canned 5 points. In the second half, with the varsity squads on the court, Natalia Bazan had a team-high 4 points for the winners.
Sunnyside Christian was led by Katelyn Banks, who dropped in a game-high 6 points.
In the second game against 2A Grandview, the 3A Lady Grizzlies ramped up the defensive pressure. The result was numerous turnovers, which led to easy, breakaway baskets.
"We're small this year, under-sized. We know we're going to have to play aggressively on defense against everyone we face," said Puente.
"The difference last night is the second game, our shots were dropping," he said of the final 49-11 outcome against Grandview.
With the JV players on the floor the opening half, Sunnyside built a 19-5 lead on the Lady 'Hounds. Destiny Salinas was the Lady Grizzlies' top scorer in the first half with 9 points.
Junior Jordan Rodriguez, last year's Big Nine League player of the year, led Sunnyside's varsity squad the second half with a game-high 12 points.
While the overall final score showed Sunnyside Christian falling to the Grizzlies, Lady Knight Coach Al Smeenk was pleased to see his varsity players outscore their Sunnyside counterparts, 13-11.
Smeenk said he's excited by the talent Sunnyside showed.
"They've got a good bunch, great girls," he said. "Rick does a great job. It's going to be an exciting year for them."
The Lady Knights showed plenty of talent as well last night, as the Sunnyside Christian varsity out-pointed 2A Wapato 15-10.
"They are a good team," he said of the Wolves. "They do a lot of pressing, so we worked on that. We don't see a lot of that during our regular season, but we wanted to be ready.
"We had a good time," Smeenk said of his team's play Monday night. "We worked hard and now we know some things we have to work on. We had different scorers in each game, which was a positive for us."
Host Grandview lost both of its games in last night's jamboree, but Coach David Gibb said one positive is that his varsity squad was able to outscore Prosser's.
"It was a good indicator of what we need to work on," Gibb said. "I think we need to make sure we play hard for 32 minutes and value every possession."
He said Grandview will rely on a youth movement of sorts for the 2013-14 campaign.
"We have young kids playing in some critical spots," Gibb said.
Grandview plays its first regulation game of the season this coming Saturday in the SunDome against Auburn.
"It's a chance to play somebody new, see if what we learned last night stayed with us," Gibb said.
Sunnyside's first official game of the season will be at 1A East Valley this coming Friday. Sunnyside Christian hosts Waitsburg this Friday.