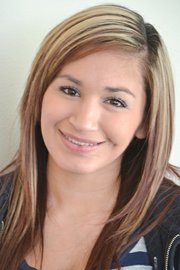 Age: 23.
Spouse: N/A.
Children: A two-year-old son, Andrew, and a child on the way.
Occupation and place of work: Cashier at Little Caesars Pizza in Sunnyside.
My favorite part of the Yakima Valley is...friendly people.
When I was a child, I wanted to grow up to be...a lawyer.
First job I ever had was...as a waitress at R.C.'s Casino.
If a movie was made of my life, the actor/actress I'd want to play me is...Julia Roberts.
The best gift I ever received was...my son.
The best piece of advice I ever received was..."never give up."
My favorite dessert is...fruit salad.
One of my most memorable moments, besides getting married or having children was...going to Las Vegas, Nev.
If I could witness any event past, present, or future, I would want to see...a Seahawks' game.
I'd love to learn how to...administer ultrasound.
The furthest I have been away from home is when I went to...Las Vegas.
My favorite leisure activity or hobby is...hanging out.
If I didn't have to worry about money, I'd spend my time...taking care of kids.
The one word that best describes me is...lovable.
If I could change one thing about myself it would be...nothing.