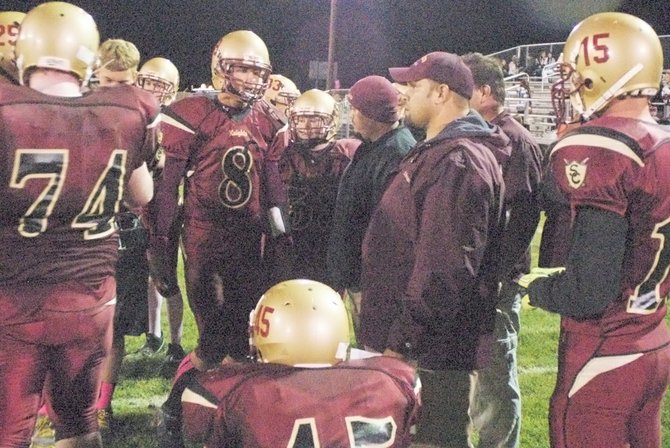 Starting a football program from scratch, Ray Hernandez has seen Sunnyside Christian's 8-man football team improve each of the past five seasons.
Fresh off the Knights' best campaign yet since the local high school started up the grid program in 2009, Hernandez announced recently he is resigning from his post as the program's first and only coach to date.
"My whole goal in being there was to establish a program where we can consistently compete each year," Hernandez said. "I felt that we reached that point."
He says his departure from the Sunnyside Christian program will enable him to spend more time with his children and be able to watch his son play middle school football next season.
"Our practices would go until 6 p.m. and the middle school games start at 4:30 p.m.," he said. "I'd have a tough time to get to his games."
Hernandez, a Toppenish res-
ident whose previous football coaching experience included four years as an assistant in Wapato, says he may get involved in Grid Kid coaching. Primarily, though, his desire is to be a parent spending time with and watching his kids.
"I'll probably hang out and watch my son play seventh grade football and basketball next year," he said.
As for the Sunnyside Christian squad he coached for five years, Hernandez says the squad is set up to succeed in the future with a new coach.
"I feel good about where the program is now," he said. "I feel like we got the traditions established, the importance of the weight room and that we can compete in our league."
He says the keys to success Sunnyside Christian has experienced to date stems from "…having kids come up through the program. The first year we had maybe one kid who had football experience."
Hernandez also had high praise for Sunnyside Christian's parents.
"The parental involvement is great, I've never seen it like you do there," he said. "I'll miss the relationships I've built with them and these young men. They're great kids."
Hernandez says those "great kids" have a chance to build on their momentum. "If we get the right person in there the program will continue to have success."
Dean Wagenaar is Sunnyside Christian's principal and athletic director, and he's leading the search for that right person.
"SCS is inviting any dedicated Christian who loves mentoring students and understands coaching/operating a football program to inquire about the head coaching position," he said. For more information about the post, prospective candidates can reach Wagenaar at 837-8995.
However, Wagenaar isn't quite ready to turn the page without first expressing kudos for contributions Hernandez made in establishing the school's first-ever football program….both as a coach and as a person.
"Coach Hernandez was patient, self-controlled and wanted to know the players as much as he wanted to coach the players," Wagenaar said. "I enjoyed visiting with Coach Ray about life experiences, including raising children."
In a school newsletter published shortly after Hernandez's resignation, Wagenaar shared that praise with the rest of the Sunnyside Christian school community.
"We appreciate his dedication and enthusiasm to work with these young men, and assistant coaches, for these past five years," Wagenaar stated. "We pray God's blessing on Coach Hernandez and his family as he pursues other goals.  Thanks so much, Coach Ray!"
- John Fannin can be reached at 509-837-4500.