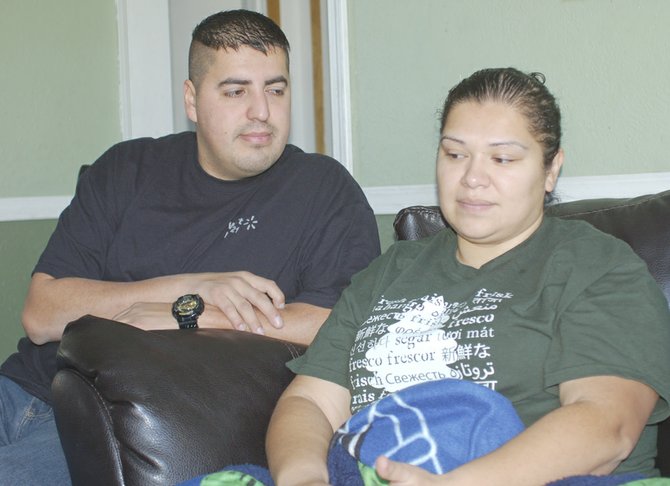 GRANDVIEW – Having to face the removal of one brain tumor is frightening enough for anyone. But undergoing neurosurgery to remove not one, but three tumors within a space of 18 months is terrifying.
Grandview's Veronica Valdovinos, who has survived two non-malignant tumor surgeries since New Year's Eve 2011, is now undergoing five-day a week radiation treatments since the removal of her third tumor. The young wife and mother of three underwent her third neurosurgery on Oct. 18, at Harborview Medical Center in Seattle.
"The first two tumors weren't cancerous. After the removal of the first tumor, the second appeared exactly six months later," said Valdovinos.
Now, she and husband Jorge are facing a mountain of medical bills, of which their insurance isn't able to completely cover. The couple has hospital bills, surgeon bills and now radiation treatment bills to handle, as well as the cost of gasoline needed to make the daily trips to Kennewick for Valdovinos' radiation treatments.
The uncertainty of being able to pay for the medical bills while caring for their small family is adding to the family's stress, especially now as the holidays draw near.
"Our oldest son just noticed we don't have our Christmas decorations up," she said.
"But we just can't think about that right now," she said.
Instead of taking the time to recover, Valdovinos, despite her husband's objections, goes to work at the Grandview Wal-mart Distribution Center on all, but the worse days following her regiment of radiation treatments.
Meanwhile, her husband Jorge Valdovinos, who also works at the Wal-Mart Distribution Center, works nights and weekends so he can be home to help with the couple's two young sons and daughter.
The couple's ordeal began on New Year's Eve 2011. Valdovinos had been feeling excessively tired and finally decided to see her doctor. She collapsed before she could make the appointment and ended up at Kadlec Medical Center in the Tri-Cities, facing the possibility of brain surgery.

"I had to call my husband to meet me at Kadlec hospital because the Prosser medical team wouldn't let me go home," she recalled.
Following her first brain scan, she was told she had a tumor roughly the size of a golf ball crowding up against her brain.
"I was terrified," she said. "But doctors assured me that I needed surgery and that should be it," Valdovinos.
But following the recommended six-month follow-up, doctors told the anxious couple that a scan of the surgery site revealed a new tumor had replaced the first growth.
Again, the couple rallied and followed the advice of her doctors and underwent a second surgery.
Because both of her previous tumor surgeries had proved to be non-malignant, when she learned she faced a third surgery she felt fairly sure the third one would also be non- cancerous.
However, at her last six- month check-up, instead of the happy news they expected, the couple found she had a more aggressive type of tumor.
"It just seemed like each time we talked to the doctors the news got worse," Valdovinos said.
Now, despite being tired and often too nauseous to work, the young wife and mother is managing to continue to care for her family.
So while she waits out the month to complete her round of radiation treatments, the couple is seeking ways to alleviate some of the financial stress. They recently learned they don't qualify for state emergency medical assistance. They worry their medical insurance won't stretch to cover everything and there are the regular household bills, as well as the extra expenses of her follow-up medical trips to Seattle and Kennewick.
Recently the worries over the huge pile of medical bills caused them to take what may seem an unusual step.
At the urging of family friends, the couple has submitted their story to www.gofundme.com to solicit donations to help them collect the necessary funds to cover their bills. The website gives those seeking financial relief an avenue to ask friends, family and even strangers for a little monetary help.
"At first we didn't want to go this route, but the bills just keep coming faster than we could handle them," Valdovinos said.
Now the couple is hoping others will hear of their story and feel moved to donate a little money towards helping them keep their heads above water.
"It was really hard for us to do this, but we just can't see another way," she said.
"We'd appreciate any help others can give us," her husband added.