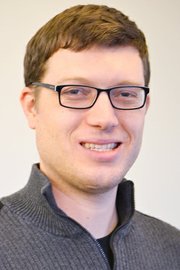 The Sunnyside School District didn't have to look far for a new SHS varsity boys basketball coach, as Geoff LaBrant – an assistant in the program for the past three seasons – was named to the post.
LaBrant, who played high school hoops for Riverside Christian, started his tenure as head Grizzly coach with the home jamboree earlier this week. His squad's first regulation tilt will be tonight at East Valley.
He says his mission for the Grizzlies is to "…make sure every game is competitive."
LaBrant's focus is a defense-first philosophy. "I want us to hustle up the floor and play an aggressive, get at'em defense."
A math teacher at Sunnyside High School, LaBrant praised his players for buying into the system right away. "They recognize that good defense supports what we do in the program," he said.
Whether he has his squad playing in a zone or man-to-man defense, LaBrant says the object will be the same. "The goal is to put pressure on every possession."
Having coached under predecessor Ron Rowe, LaBrant says the Grizzlies will have some similar looks on offense, though over time he plans to add his own wrinkles to the SHS attack.
Besides fielding a scrappy, competitive team, LaBrant and his staff are emphasizing the importance of communication among teammates when they're on the court.
That communication will especially be key as Sunnyside is in a youth movement of sorts with only four returning varsity players; Cody Fernandez, Joel Ortega, Marcus Sanchez and Estevan Salmeron.
All five starters from last year's team were seniors, meaning the Grizzlies will have a new look for 2013-14.
While 3A Sunnyside will face several 4A opponents during the season, he says the philosophy is that "…no games are decided before the tip-off."
That sense of determined optimism starts with the coach. "I let them know that I'm going to fight until the last buzzer," LaBrant said.
Sunnyside's first official game is tonight, Friday, against the 2A Red Devils. Besides coming out with a win, LaBrant says a goal for tonight's contest is to get a better sense of team chemistry, plugging in the right combination of players.
"The guys want to prove themselves," the coach says. "They want to show that Sunnyside basketball is competitive and has every opportunity to succeed."