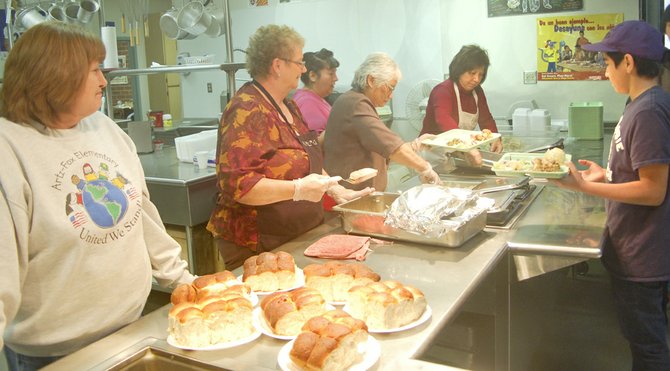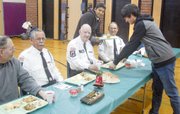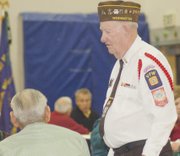 MABTON - When Mabton Artz-Fox Elementary School head cook Lorene Stottlemyre and then Mabton Mayor Thelma Satterfield came up with the idea to host a holiday dinner for the community's senior citizens, they probably never envisioned the dinner continuing for 38 years.
Yet, continue it has and this past Sunday more than 65 diners turned out to enjoy a turkey dinner complete with all the fixings. Home deliveries of the meal were transported to more than 25 individuals, who couldn't brave the cold to attend the dinner in person.
"But they were not left out," according to this year's dinner chairman, Shannon Pierce.
Pierce said the Mabton Fire Department and members of the Miss Mabton Royalty helped deliver the dinners to the housebound Mabton senior citizens.
Originally, according to Mabton old-timers, the dinner was meant to honor the community's elders, a tradition that continues today.
"We wanted to show the senior citizens of our community how much we appreciated their contributions to our town," said former Mabton Mayor Rudy Cortez, who on Sunday was among the diners.
Cortez remembers a time when the community's clubs and organizations came together for the dinner to donate pies, turkeys and even provided entertainment for the dinner.
"We don't have many clubs in town anymore," he noted.
"But I sure do appreciate the work of those who keep this event going," Cortez added.
Among those carrying on the senior dinner tradition are the members of the Greater Mabton Community organization, the Mabton Food Bank and the local VFW Post members, said Pierce.
She thanked the high school youth organizations, who also pitched in this year to make sure the dinner was a success.
The meal was prepared, as it has been for its entire history, by the Artz-Fox Elementary School kitchen staff, who each year have donated their time for the dinner. Another part of the dinner's tradition is to see city council members along side of Mabton School District leaders helping to dish up the food.
Shari Brink, the Mabton High School family consumer science teacher, had the members of her FCCLA Club on hand to provide wait staff for the meal.
Pierce said her own involvement in the dinner began when she was still in high school.
"My mother, the late Sandy Pierce, was passionate about this dinner and she worked on it for many years," Pierce said.
When her mother passed away several years ago, Pierce found herself taking on the organization of the yearly event. Now, she enlists the help of the community to carry on the tradition.
Her father Don Pierce, a local VFW member, and her cousin Jimmy Sternitzky were responsible for the purchase of the turkeys provided for this year's dinner.
Pierce said the materials for the dinner cost about $1,000. "Some years getting the donations is harder than others, but people always come through," she said.