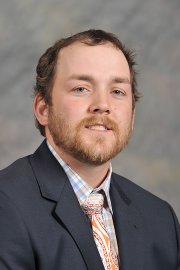 Sunnyside's Brian Campbell, a biosolids coordinator with Natural Selection Farms, has been selected to participate in an 18-month agriculture and forestry leadership development program. 
As a member of Class 36 of the Washington Agriculture and Forestry Leadership program, Campbell will attend 14 seminars designed to enhance leadership skills for the benefit of the natural resource industries of Washington state. The seminars are jointly sponsored by institutions of higher education and agriculture and forestry related businesses.
The program is conducted by the Washington Agriculture and Forestry Education Foundation. The Foundation's goal is to develop astute, effective leaders by broadening their cultural, economic, social and political perspectives.
During the program, participants will study local, state, national and international public affairs issues and how they interrelate, learn how to analyze issues in a decision-making process, improve collaborative and communication skills, and study Washington's natural resource industries.  They will travel to Washington D.C. and selected foreign countries.
Since its inception in 1978, the program has graduated over 900 participants. The Agriculture and Forestry Education Foundation is funded by more than 700 donors representing individuals and businesses in the natural resource industries.