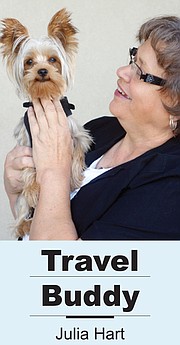 During the past week it appears as though downtown Sunnyside has undergone a transformation.
I know my little Yorkshire Terrier Buddy has noticed. Each trip through the core of the city has elicited sharp happy barks and more racing back and forth across the back seat than normal.
So, I know he'd want me to offer his personal thanks to everyone who came together and helped dress-up the windows in downtown Sunnyside. I know he was worried the windows would remain dark during last weekend's annual Lighted Farm Implement Parade, but on our most recent pass through town, Buddy and the other passengers in my car were delighted to see all the color and lights.
Buddy, in his way, was very happy to see how people helped one another to get into the holiday spirit by volunteering their time painting windows while others added lights to downtown buildings which were not lit.
Buddy got very excited last week when I read him a Facebook posting by Brandi Honey-Porter and Sharon Dolan, who motivated others by volunteering to paint and decorate some of the vacant store fronts located down town. We understand they had some help from Katie Porter, Jessica Cabellero, Heather and Josie Marro, Abigail Kirk and Molly Dolan. "Well Done ladies."
The Sunnyside Chamber of Commerce also helped spur on the decorating by offering prize money for the best window decorations.
I know Buddy really enjoyed the fireplace scene in the front window at TJ's Refrigeration Heating and Air. If I would have let him out of the car for a closer look, I might have had a tough time getting him away from the fireplace featured in the holiday display.
Buddy especially seems to have appreciated the adorable painted windows in the old H&H Furniture Store at the corner of East Edison and South Sixth Street. Local pharmacist Bill Corpron and his band of elves did a great job making the corner landmark attractive for the weekend. He recently told me he has big plans for the corner, which he is planning to call Affordable Affairs. Buddy and I are excited to see what he has planned.
Buddy also got quite excited to see John Dalrymple's lit-up fire truck located at Centennial Square, but I wasn't about to let him roam the park for a closer look, in case he got too excited. Buddy had to be content to enjoy the lights in the park and on the bandstand from the warmth of our van.

Buddy and I thank all the decorators for getting the rest of us motivated to put up lights in our windows as well. Our lights may not be as elaborate as say the lights at Beck Co., but ours brighten up our little corner of the world.
So to all the window decorators, we again say "nicely done."
Now that the streets are all decorated for the holidays, Buddy and I hope to see each of you around town this Thursday. We will be doing our part during the "Spread the cheer! Shop here!" campaign.
Besides, it is always fun to see neighbors and friends on the streets of Sunnyside, no matter the season.