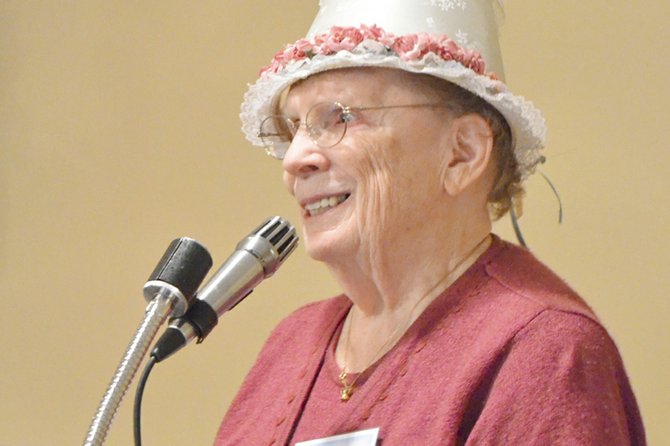 PROSSER – To say Loris Ketter is a hat fanatic might be a tame description of this collector.
She collects hats from various parts of the world. She has modern and vintage hats. She even creates hats from everyday items, including toilet seat covers.
Ketter at this past Tuesday's Lower Valley Christian Women's Connection meeting entertained those attending the monthly luncheon in Prosser. She kept the women laughing as she showed them how she creates a "slip-on original" hat using a half slip.
"Isn't it pretty...just add a flower," she said, turning in circles with her creation on her head.
Ketter's creativity with household items continues. She even showed those attending the meeting a bread hat. She said a friend made a round loaf of bread, but the baking disaster inspired Ketter. The loaf was rock hard. Ketter snitched it from the trash when her friend wasn't looking, she took it home and using power tools, she was able to create a hat by hollowing out the bottom.
"Just add a pretty flower," she said, inciting more laughter from her captive audience.
Ketter showed off a hat she purchased from a Nisqually Indian. It was made from a Purex bottle and raffia.
She is so in love with her many hats that she was able to tell the Christian women where each was acquired, including a hat from a cousin who never gave anything away.
Seemingly, the hat that she is most proud of would be the hat made from a toilet seat cover. She enjoys that creation because it bothers her sister, Darien Parsons, who was the featured speaker at the meeting.
"I thought it would be perfect for our visit to Spokane," said Ketter, earning a grimace from Parsons.
Turning to Parsons, she asked if she could at least wear the hat in the car.
"No!" came the reply.