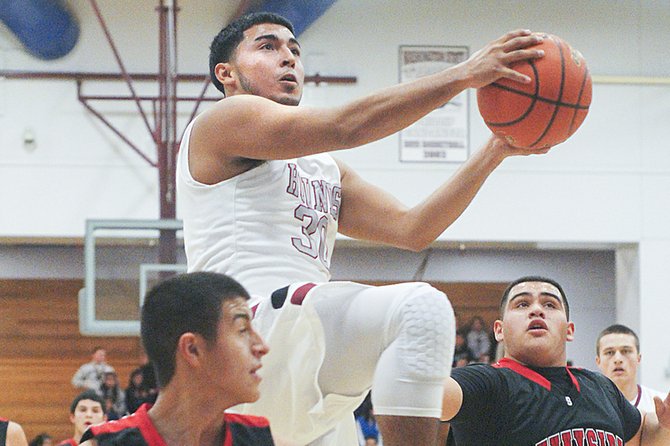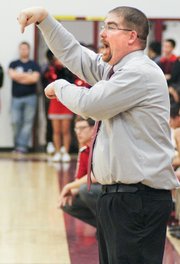 GRANDVIEW – The Grandview Greyhounds and the Sunnyside Grizzlies squared off in a non-league game last night.
Years of history between the two teams always draws a large crowd, and last night was no exception.
"It was a great atmosphere for a high school basketball game," Grandview Coach Glenn Braman said.
The spectators for the home team had plenty to cheer about last night as the Greyhounds opened the game with an 18-9 lead that carried momentum to end in an 82-66 final score.
Grandview outscored the Grizzlies by another seven points in the second stanza. The 'Hounds provided themselves a cushion for the second half with a score of 48-32.
"We came out strong but we couldn't keep up with that pace," Sunnyside Coach Geoff LaBrant said, noting his team made some adustments at the half to try and keep up with the Greyhounds.
In the third quarter, Sunnyside outscored Grandview 19-18, but couldn't get enough momentum to overcome the deficit.
The final quarter played out in favor of the Greyhounds, 16-15.
Leading Grandview on the scoreboard was Isaiah Ruiz with 25 points and nine assists.
Teammate Isaiah Gonzalez contributed another 15 points to the tally for a double-double with 11 boards.
The Greyhounds had nine shots for 27 points from treyland.
Also contributing to the effort was Andy Rodriguez, who sank 3-of-5 shots from beyond the 3-point line.
"It was a total team effort," said Braman.
He said, "We still have a long way to go on the defensive end of the floor."
Braman said the Greyhounds aren't yet playing in top form, but if the team continues with its current mindset of getting better every day, there will be much success this season.
Isaiah Fernandez led Sunnyside with 18 points, followed by Joel Ortega and Angel Garza with 15 and 14 points, respectively.
Garza also collected a team-high nine rebounds and teammate Estevan Salmeron added six boards.
LaBrant said his team is doing a much better job of blocking out and in rebounding.
Sunnyside (0-2) opens league play later this week with home games against Davis this coming Friday and Wenatchee on Saturday.
"We're continuing to emphasize making sure we're following our offensive plan," LaBrant said of prepping for the start of league competition. "We're going to see some great shooting, so we need to stay defensively sound and minimize the open shots."
Grandview (2-0) will this coming Friday host Ephrata and travels to Ellensburg the following night.