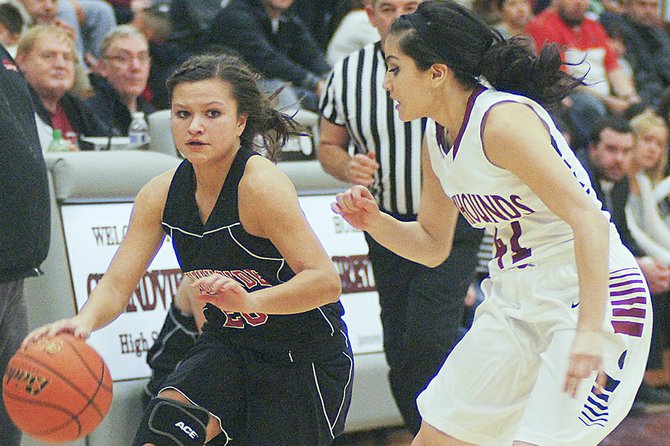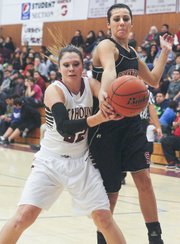 GRANDVIEW - Sunnyside broke open a tight contest last night with a 41-27 second-half surge, which lifted the 3A Lady Grizzly basketball team to a convincing 71-53 non-league victory at 2A Grandview.
Junior Jordan Rodriguez, last season's Big Nine League player of the year, and 5'3" freshman Emilee Maldonado keyed Sunnyside's late game charge. Rodriguez popped in 15 of her game-high 21 points after intermission, and Maldonado added 13 points to the three she scored before the halftime break.
"At halftime we talked about picking up the tempo and being more aggressive," said SHS Coach Rick Puente. "The girls really stepped up to that challenge the second half. It led to a lot of opportunities to get out and run."
Those opportunities, he explained, were created by playing in–your-face defense…with better ball trapping, jumping the passing lanes and applying tight pressure on whichever Grandview player had the ball.
"Some of our girls also got into foul trouble, but other girls stepped in and got the job done.
"We saw a lot of unselfish play. It was a big team win for us," Puente added.
Besides the double-digit scoring of Rodriguez and Maldonado, Sunnyside re-
ceived a 10-point performance from Tiana Perez. She also grabbed five rebounds for the winners.
Sunnyside's leading rebounder was the 5'3" Maldonado. She came away with eight boards.
Defensively, Rodriguez turned in the top effort for the Lady Grizzlies with four steals.
Grandview's big guns Tuesday evening proved to be Marissa Caballero and Samantha Grove.
Caballero led a balanced scoring attack by canning 11 points. She also had team highs of three assists and three steals. Caballero also snatched four loose balls off the glass.
Grove, in addition to popping in 10 points, scraped a game-best 14 rebounds off the boards.
"Caballero is a good passer, and she was weaving some nice passes into Grove in the paint," said Puente. "Give Grove credit, with her 10 points and 14 rebounds she had a very strong game last night."
Scoring 9 points apiece in the losing cause were Breanna Lopez, Jamila Shafer and Hannah Pond.
"I felt we played with them for about three quarters and then it got away from us," Grandview Coach David Gibb said. "I thought our girls played a very experienced and good team extremely hard and gave them their money's worth."
Team-wise, Grandview shot at a 37 percent clip from the field (20-for-54), which included making 3-of-9 shots from behind the 3-point arc. The Lady Greyhounds were 10-for-20 from the charity stripe.
Sunnyside made 39 percent of its field goal attempts (28-for-71). The Lady Grizzlies made 4-of-13 long range shots from 3-point range, with Selena Rubalcava netting two of those. From the free throw line, Sunnyside was 11-for-18.
The Lady Grizzlies (2-0) jump into Big Nine League play this coming Friday and Saturday, with home games against Davis and Wenatchee, respectively.
Grandview (1-1) opens CWAC play this Friday and Saturday…at home against Ephrata, then on the road at Ellensburg.
Gibb feels his team's overall solid showing against a good 3A squad bodes well for the 2013-14 campaign.
"I was proud of our effort and look forward to the rest of the season," he said.
Sunnyside – Mireya Herrera 0, Vanessa Alvarez 6, Summer Hazzard 0, Jazel Trevino 0, Natalia Bazan 7, Jasmine Lua 2, Selena Rubalcava 7, Emilee Maldonado 16, Jessica Mendoza 2, Jordan Rodriguez 21, Tiana Perez 10
Grandview – Breanna Lopez 9, Jamila Shafer 9, Hannah Pond 9, Taylor Hall 4, Suzie Medina 1, Marissa Caballero 11, Samantha Grove 10, Mayra Mejia 0, Evann Swearingen 0