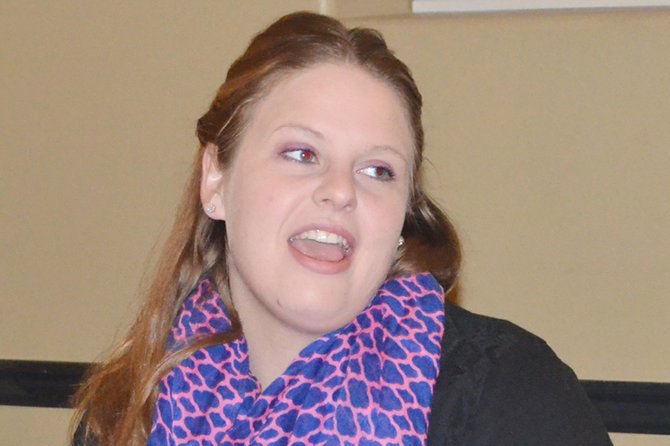 Sunnyside Parks and Recreation Coordinator Megan Razey returned to her hometown, hoping to re-establish a parks and recreation program.
That has been the primary focus of her work since being hired earlier this year by the city of Sunnyside.
Razey was the featured speaker at this morning's (Thursday) Sunnyside Cham-ber of Commerce meeting.
She told the chamber members that Zumba classes are planned at the Sunnyside Community Center, as is a baseball camp.
The baseball camp, said Razey, is the result of a partnership between the parks and recreation department, and the local Cal Ripken baseball program.
She said the camp will be held on the second and fourth Tuesday in February.
Another targeted program Razey has been looking to establish is an after-school program for Sunnyside's youth. That program will be held at the community center beginning next month, if all goes according to plan.
"We still need some volunteers for programs," Razey told the chamber members.
Looking at how the community can best be served by use of the community center, she said she has also put in place plans to adjust the hours it is open.
"It will be open later…that makes it more accessible for adults taking advantage of open gym," said Razey.
She said the children in the community also enjoy the community center staying open later, during the evening hours. Using this past Wednesday as an example, she said there were only four youngsters at the center prior to 5 p.m. After that there was an influx of youngsters wanting to use the facility.
Razey told those attending this morning's meeting that Sunnyside's Parks and Recreation Board has been discussing with her the city's parks. She said she and the board are looking at how the parks might be better utilized.
"If the city makes changes to the parks, it must make sure they are ADA (Americans with Disabilities Act) compliant," said Razey.
In addition to all that was shared, she said she would like to have the parks and recreation department sponsor more community events. What Razey said she is most eager to have is a movie night for the community. She would like to feature a film the community can enjoy at one of Sunnyside's parks.
"I am excited about all that is beginning to take place," said Razey.