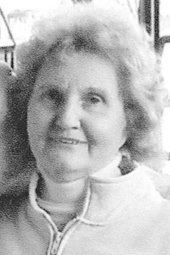 Marie Thompson, 78, a longtime Sunnyside restaurant owner, passed away on Tuesday, Dec. 10, 2013 in The Dalles, Ore.
Marie was born Oct. 23, 1935 in Evening Shade, Ark., the daughter of Archie and Eula (Bacon) Whitlock. She received her elementary education in Arkansas. In 1973 Marie began her career in the restaurant business managing a restaurant in Klamath Fall, Ore.

On Feb. 15, 1975 she married Jim Thompson in Richland. From 1978 to 1985 she and Jim operated Thompson's Asparagus Farm and from 1980 to 1985 operated J&M Janitorial. From 1985 to 2007 she owned and operated various restaurants including, Sunnyside Sales Yard Café, Toppenish Sales Yard Café, Farmers Inn Restaurant in Mattawa, Homestead Restaurant, Marie's Homestead Restaurant and Marie's Sod Buster Restaurant in Goldendale and Marie's Country Restaurant in Sunnyside. She treated her customers as if they were her family, not only cooking for them but sharing jokes, stories, heartaches and joys.
Marie loved cooking, gambling, puzzle books and cherished time with grandchildren.
She is survived by her daughter, Sonya (Jeff) Anderson of Sunnyside; three grandchildren, Ashley Anderson, Jakob Anderson and Darick Anderson, all of Sunnyside; three nephews, Corey, Shane and Troy; one sister, Olene and one brother, Oneal, both of Arkansas; one sister-in-law, Diane Damron of Yakima; best friend, Denise Kozachenko of West Richland; Nacho Lopez, who she treated like her son; last but not least her dogs, Rusty, Buddy; and her cats.
Marie was preceded in death by her parents; husband, Jim Thompson; and one sister, Dorothy Whitlock.

Viewing and visitation will be held Tuesday, Dec. 17, 2013, from 1 to 5 p.m. and Wednesday, Dec. 18, 2013, from 8:30 a.m. until noon. Funeral services will be held Wednesday, Dec. 18, 2013, at 1 p.m. at Smith Funeral Home in Sunnyside.
Those wishing to honor Marie's memory may contribute to the Yakima Humane Society.
If you would like to sign her on-line memorial book you may do so at www.funeralhomesmith.com.
Smith Funeral Homes Ltd. and Crematory in Sunnyside is in charge of arrangements.
More like this story