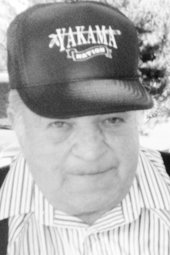 On Sunday, Dec. 8, 2013, Michael Dee Guffey, 66, of Wapato passed away at home with his family and went to be with the Lord after a long fight with heart disease.
Mike was born July 15, 1947, to John and Mary Guffey. He grew up in Grandview and was the youngest of seven children.
Mike enjoyed taking trips to the ocean and fishing, spending time with his family. Part of his daily routine was to get up with the boys every morning and make sure Chanc and Luis got to the bus and Matthew didn't destroy the house! Recently, Mike got the most joy by going to the casino with his two sisters and with his wife. He was always the only one who won anything!
Mike is survived by his loving wife, Lorie Guffey; sons: Chanc Guffey, Earl and Jeremiah Gefre, and Clifford (Betsy) Guffey; three daughters: Samantha Tellez, Kayla Churchill, and Sunshine Gefre; two sisters, Shirley Pickel and Irma Thomas; seven grandchildren: Luis (Pork), Matthew, Anthony, Fabian, Maricza, Junior, and Iziah,; and numerous nieces and nephews.
We would like to thank the nurses at Yakima Regional Hospice for all the care for Mike the last year. He enjoyed the visits, especially with his nurse Karen G. and Michelle.
No services are planned.
Online tributes can be left at valleyhillsfh.com
Valley Hills Funeral Home in Zillah is in care of the arrangements.
When I am gone, release me. Let me go I have so many things to see and do. You mustn't tie yourself to me with tears, Be happy, we had so many years. I gave you my love and you can only guess How much you gave to me in happiness. I thank you for the love you each have shown But now it's time I traveled alone. So grieve a while for me if grieve you must Then let your grief be comforted by trust. It's only for a while that we must part So bless those memories in your heart. I won't be far away for life goes on So if you need me , call and I will come. Though you can't see or touch me, I'll be near with all my love around you soft and clear. And then, when you must come this way alone, I'll greet you with a smile and "Welcome You Home."