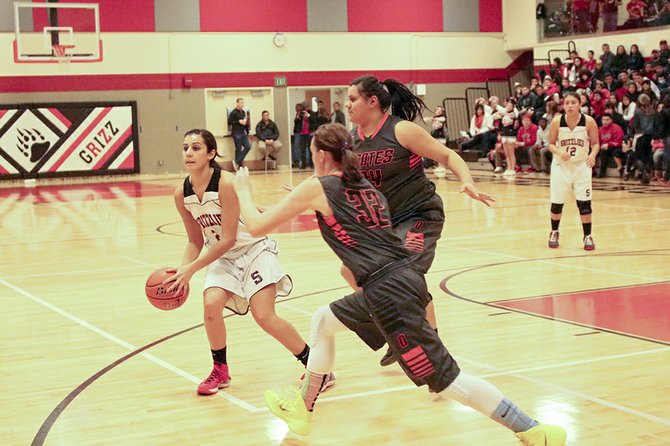 Second-half shooting woes cost the Sunnyside High School girls basketball team last Friday. Davis took advantage of that and rallied after intermission for a 61-50 victory.
The Lady Grizzlies bounced back in a big way on Saturday, though, defeating the Wenatchee Panthers, 71-58.
Both games were played on the Lady Grizzlies' home court, and were the Big Nine League openers for Sunnyside.
In tripping up Wenatchee on Saturday, the Lady Grizzlies outscored the visitors by a 48-24 margin in the middle two quarters.
"We turned up the pressure in the second and third quarters," said SHS Coach Rick Puente, explaining that Sunnyside's trapping press created numerous turnovers…which led to several breakaway lay-ins.
Sunnyside also got a sparkling 3-for-6 performance from behind the 3-point arc out of freshman Emilee Maldonado. The diminutive, 5'3" underclassman finished Saturday's game with 8-of-14 field goal numbers, which translated into a game-high 20 points.
Also reaching double figures for the winners were juniors Natalia Bazan and Tiana Perez. Bazan, who turned in what Puente described as a "solid game" by canning 14 points, went 5-for-10 from the field, which included knocking down her lone 3-point shot of the night. The 5'10" Perez, Sunnyside's presence in the paint, finished with 11 points. She also scraped five loose balls off the glass.
Sunnyside's leading scorer last season and this year, junior Jordan Rodriguez, was held to 7 points. The 5'8" playmaker came through big in the key, however, tallying a team-high eight rebounds against Wenatchee.
The lone senior on the Lady Grizzly varsity, Vanessa Alvarez, added 8 points to the cause while gathering in five loose balls off the boards.
In defeating the much taller Panthers, Puente said his club knew going in that Wenatchee would pound the ball inside to its post players.
"They're one of the tallest teams in the league. We knew to beat them we had to out-work them, and create a lot of turnovers. The girls came through," he said of his Lady Grizzlies.
Friday night against the Davis Pirates, it was simply a matter of Sunnyside's shots not finding the bottom of the rim – most notably in the second half.
"We were getting great shots. They just wouldn't fall," Puente said.
"Davis also did a great job of getting to the (foul) line," he added, noting the Pirates were 25-for-33 from the charity stripe compared to his own team's 14-for-21 numbers from the free throw line.
From the field, Sunnyside connected on just 34 percent of its shots, which included going 0-for-10 from 3-point range.
Davis, the runners-up in Big Nine League play last season, was led by junior Sydni Billups. She tossed in a game-best 19 points. The Pirates also got a 12-point performance from Alexis Perez, the team's leading scorer last year.
Sunnyside got double-digit scoring efforts from Rodriguez and Maldonado with 14 and 10 points, respectively.
Sunnyside (1-1, 3-1) is scheduled to play a non-league game at Kamiakin this coming Tuesday.
Davis 12 15 19 15 -61
Sunnyside 14 13 14 9 -50


2-PT FG – Davis 18/35, Sunnyside 18/43. 3-PT FG – Davis 0/6, Sunnyside 0/10. FT – Davis 25/33, Sunny-side 14/21. RBD – Sunnyside 20 (Perez 6).
Davis – Morales 9, Greene 8, Fowler 7, Martinez 2, Billups 19, Gratton 4, Perez 12
Sunnyside – Alvarez 6, Bazan 6, Rubalcava 4, Maldonado 10, Mendoza 4, Rodriguez 14, Perez 6, Herrero 0, Trevino 0, Lua 0
Wenatchee 15 13 11 19 -58
Sunnyside 10 23 25 13 -71
2-PT FG – Wenatchee 26/45, Sunny-side 23/54. 3-PT FG – Wenatchee 0/1, Sunnyside 5/23 (Maldonado 3/6). FT – Wenatchee 8/18, Sunnyside 10/19. RBD – Sunnyside 28 (Rodriguez 8)
Wenatchee – Rader 2, Ahlgren 2, Hahlberg 14, Sealby 8, Faulkner 2, Jones 4, Waterman 6, Chandler 16, Brown 4
Sunnyside – Alvarez 8, Bazan 14, Rubalcava 7, Maldonado 20, Mendoza 4, Rodriguez 7, Perez 11, Herrera 0, Trevino 0, Lua 0