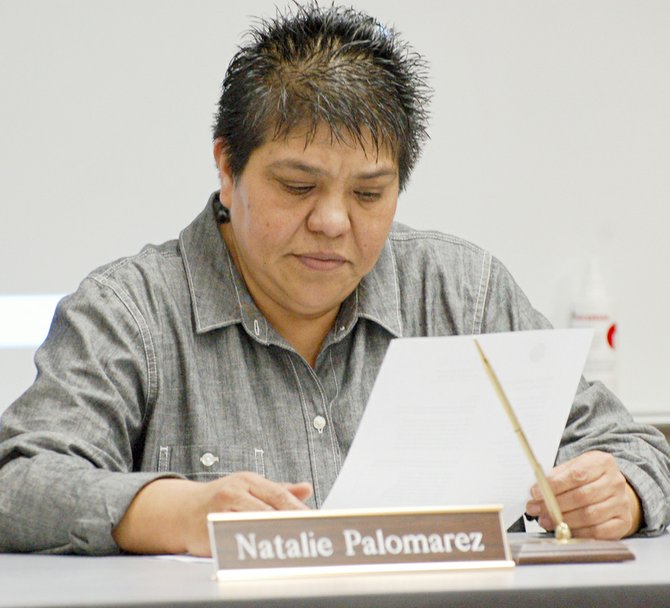 MABTON – A proven method of increasing graduation rates is being implemented at Mabton High School by Principal Caleb Oten.
Seniors at the high school have each been assigned a color based on their progress toward graduation. Students who are on track to graduate are green. Students not passing one or more state required exams are yellow. Students missing credits are orange. And students who still have to pass exams and have credits to make up are red.
Along with colors, each student also has a mentor at the high school. Mentors are staff members charged with keeping track of a small number of students and making sure both students and their parents know what is required for the student to graduate.
Mentors create graduation checklists, monitor progress reports and check in with students. Mentors are also expected to contact parents at least once a month, keeping them involved.
Oten said the school currently has six mentors for its 52 seniors. Each mentor has up to 10 students to track, usually divided up between the colors.
Last night, Oten provided the school board with a chart showing the improvement of the class of 2014 from September to December of this school year.
When school started, 21 students were green. The efforts of the mentors and the teaching staff have increased that number to 28. Most of the other colors have been reduced, with most of the make-up happening among students who did not have enough credits to graduate.
"Some students do not have enough credits to be considered seniors," said Oten. "We're giving them the opportunity to make up credits."
The options include after school programs and online learning. Oten said that many of the students are bright and capable, but didn't pass classes due to attendance problems. With the mentoring program in place, he said students will be more aware of their status and better equipped to make the right choices.
Despite the potential for success, Oten warned the school board Monday evening that results may not be immediately apparent. One problem with the program is that it is currently limited to the senior class.
"We need to extend it to other grades," he said. "It needs to trickle down to seventh and eighth grade, which is where we need to start pushing for graduation."
Another problem is that the class of 2014 has already lost students.
"If 70 students enter as freshmen, and we only have 50 now, that will be reflected in the graduation rate," he said. "The current seniors don't include the entire cohort that entered high school, just those that are still in school."
The method Oten is using was developed at Sunnyside High School under Principal Chuck Salina. Oten was a teacher during Salina's time at Sunnyside High School. Sunnyside's graduation rate has improved dramatically thanks to the changes instituted at that time.
Oten hopes to duplicate Sunnyside's success in the smaller Mabton district.
"We have sharp kids," he said. "They just need to know they can succeed."