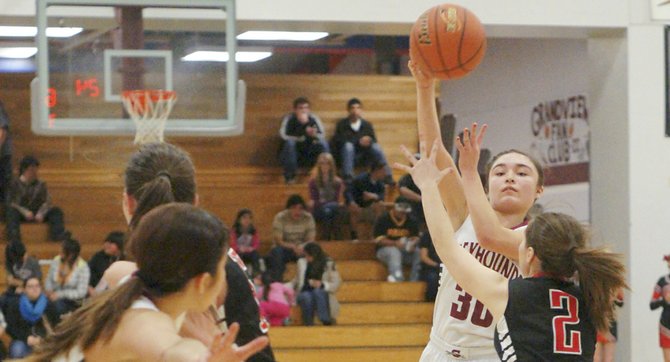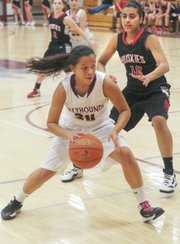 GRANDVIEW – The trio of Breanna Lopez, Marissa Caballero and Jamila Shafer spearheaded Grandview's 74-36 shellacking over the visiting Othello Huskies last night. Tuesday evening's victory boosted the Grandview High School girls basketball team's CWAC record to 2-1, 3-2 overall on the young season.
The Lady Greyhounds, up just 12-8 after one quarter of play, broke the game wide open by piecing together a 26-10 scoring burst in the second period.
"We got off to a bit of a sluggish start in the first quarter, but put things together in the second," said Coach David Gibb. "Losing at Ellensburg was emotional and I think that contributed to our slow start, the girls battled through it and got a home win, which you need to have in this league."
Grandview ended any suspense that might have lingered by going on a 25-9 third-quarter run.
Lopez, a 5-6 senior, drained four long range shots from behind the 3-point arc enroute to popping in a game-high 24 points. She also swiped the ball from Othello three times.
Caballero, a 5-5 senior who's taken on the role of the team's playmaker, dished a game-best nine assists. She also canned 18 points for the winners.
The 5-8 Shafer, who along with 6-0 junior Samantha Grove patrols the paint for the Lady 'Hounds, came away with a team-high six rebounds. Shafer, too, knocked down 15 points against the Huskies. Grove collected four rebounds for Grandview and scored the same number of points.
Sophomore Hannah Pond con-
tributed mightily last night for the Lady 'Hounds, as well, tossing in 8 points while tallying a game-high five steals.
Othello, which didn't win a single game in CWAC play last season, was led by Alvarez and Fleshman with 10 and 9 points, respectively.
Grandview has one game remaining before the holiday break, at Selah this coming Friday.
Othello – Valdez 5, Garza 3, Alvarez 10, Franco 0, Randolph 2, Rodriguez 2, Anderson 2, B. Fleshman 1, Anderson 2, H. Fleshman 9
Grandview – Lopez 24, Shafer 15, Pond 8, Hall 2, Medina 3, Caballero 18, Grove 4, Mejia 0, Swearingen 0, Duran 0