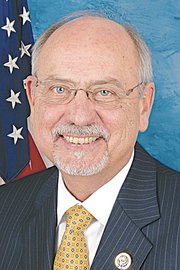 WORDS FROM WASHINGTON
With the holiday season upon us, Central Washingtonians are flocking to stores and websites to purchase gifts for family and friends. Unfortunately, cases of identity theft in our community are on the rise and can spoil this season of goodwill.
The most common complaint from consumers in all 50 states, according to the Federal Trade Commission (FTC), is identity theft. Moreover, victims of identity theft spend an average of 600 hours trying to restore his or her identity.
In 2012, more than 5,300 Washingtonians were victims of identity theft, ranking our state 25th in the nation for this type of crime.
While some cases of identity theft are unavoidable, there are a number of things you can do to help lower the risk of becoming a victim.
First and foremost, you can protect your personal information by finding a safe place for your important documents, such as financial records and Social Security cards. Shredding personal documents and medical information can also reduce the risk of your sensitive materials being shared.
In addition, as bank statements and credit card bills arrive each month - particularly those from the holiday shopping season - it is important that you carefully monitor them for any suspicious activity.
Reviewing credit reports is another important tool in detecting identity theft. In 2003, Congress passed a law that gives all Americans access to a free credit report each year. You can visit www.annualcreditreport.com or call 1-877-322-8228 to obtain a free copy of your credit report.
Protecting your online shopping accounts with complex passwords can help defend your computer and financial records from consumer fraud. Also, make sure your computer has the most recent updates installed for anti-virus and anti-spyware software, and is using a secure firewall.
Furthermore, the FTC recommends that you not respond to e-mails asking for personal information, and never use a public computer, such as those at libraries, to input sensitive financial information when buying products or services online.
For additional information about how to protect your personal information online, visit www.onguardonline.gov.
To learn more about identity theft protection and what to do if you are a victim, I encourage you to visit www.consumer.gov or contact the Washington State Office of the Attorney General at 360-753-6200.
‑ U.S. Congressman Doc Hastings (R-Pasco) represents Central Washington's Fourth Congressional District.