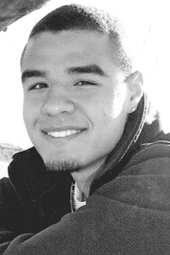 Carmen Earl Johnson was born on Jan. 11, 1993 in Yakima. He left us to be one of God's fighting angels Sunday, December 15, 2013.
Carmen grew up in Mabton, where he attended Artz-Fox Elementary and graduated from Mabton Jr-Sr High school in 2011.
As a young boy, Carmen was mischievous, inquisitive and very active. He was definitely all boy! Upon graduation from high school, Carmen chose to become a world traveler. As Carmen grew into adulthood, he subscribed to the philosophy that life was an adventure and must be lived.
Carmen made friends everywhere. He would entertain family and friends with his countless antics and his specialty, making sound effects. His laugh was infectious and his smile was worth a million bucks.
Carmen loved swimming and spending time outdoors. Most of all, Carmen loved his family, friends and basketball! He was a gentle giant on and off the court.
Carmen is survived by his parents, Johnnie and Naida Gusby; his surviving siblings, Brian Gasca, Naida M. Gusby, Lashawn Reeves, Pearlisha Reeves and Shandy Stone; his grandparents, Pedro and Olisavia Veliz, Laris Nelson, and Donald and Noris Curtis; and numerous uncles, aunts and cousins.
He was preceded in death by his grandmother, Cecilia Lee Nelson.
Viewing and visitation will be held Sunday, Dec. 22, 2013, from 4 to 8 p.m., with recitation of the Holy Rosary at 6 p.m. at Smith Funeral Home in Sunnyside. Mass of Christian Burial will be Monday, Dec. 23, 2013, at 10 a.m. at Blessed Sacrament Catholic Church in Grandview, burial to follow at Mabton Cemetery.
Those wishing to sign Carmen's on-line memorial book may do so at www.funeralhomesmith.com.
Smith Funeral Homes Ltd. and Crematory is in charge of all arrangements.