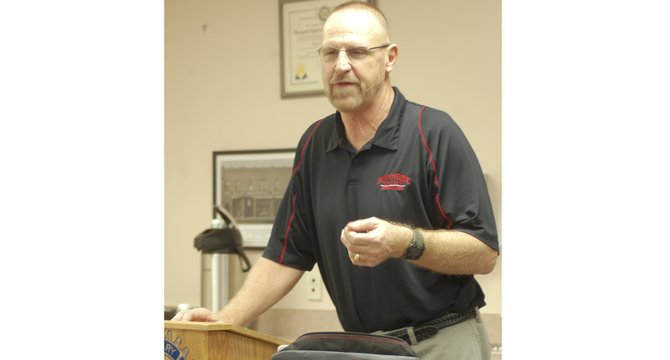 Sunnyside High School Wrestling Coach George Paulus knows a thing or two about rapid weight loss. As a former collegiate wrestler during the early 1970s, Paulus admittedly tried a lot of methods to meet his weight class before his matches.
None of his former methods were very healthy. However, these days the 36-year veteran high school wrestling coach is promoting a safer and healthier way for his squad to maintain their weight. In fact, he now closely monitors each athlete's weight status weekly to check for major losses or gains.
"Today, we check hydration levels and monitor body fat levels, constantly," he said.
"We don't need anyone suffering from excessive dehydration," he added. "Wrestlers have died from excess rapid weight loss."
Paulus explained the new national body fat weight assessment used by wrestling programs, designed to keep young athletes healthy and safe, to Sunnyside Daybreak Rotary Club members at their regular Wednesday morning meeting.
Paulus said all Sunnyside High School athletes in the wrestling program undergo a body fat assessment before being allowed to practice for the season. He explained the assessment is totally based on body fat and not height. Body hydration levels are also assessed, he added.
He said a wrestler who's allowed his body to go into 'drought mode' is not going to be wrestling at peak performance.
The male athletes are only allowed to drop weight to within 7 percent of their body mass. "Girls, because they naturally store more fat, are allowed to drop down to within 12 percent of their body fat to meet weight class," he explained.
"This year we had 112 wrestlers turn out for the boys program. Currently we have between 85 and 90 boys practicing each day," Paulus said, adding keeping track of each boy's weight takes up a lot of paper work time.
"It is a challenge, but it is for the safety of the players."