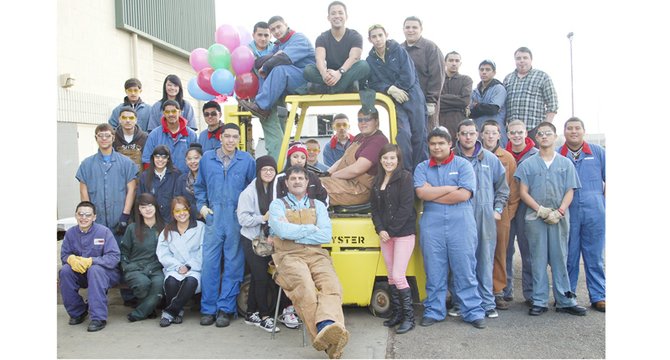 Why Sunnyside businessman George Johnson of Johnson Food, Inc. decided to donate a forklift to Sunnyside High School's fusion technology program is a bit of a mystery, according to Tom Dolan, the lead instructor for the program.
"But we are very grateful for the donation," he said, a sentiment echoed by his Fusion II students.
The future welders have been given a rare opportunity to learn about the large piece of equipment, Dolan explained. He said his program focuses on welding and large equipment use, as well as safety instruction.
"We do big projects around here and we have already found we are using the forklift every day," Dolan said.
Dolan said he expects his students to leave his advanced classes ready to go to work.
Dolan, who recalls having worked for Johnson's food processing business as a teenager, said a number of his former technology students have also worked for the Sunnyside-based company.
"We are always happy when we can take advantage of real life teaching moments," Dolan said, adding that having the forklift readily available offers just such a moment.
"We appreciate Mr. Johnson's generosity," he added.
Dolan said Johnson not only donated the forklift to the school program, but attached a maintenance agreement to the donation at his own expense.
"It is just a huge gift and we are very thankful for it," Dolan said.