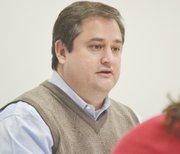 Improved networking with local elected officials, building a sense of community and more critical analysis of meeting goals are some of the areas to build on for Sunnyside United.
That's the result of a survey of the various individuals and groups associated with the Sunnyside United coalition. They range from the local hospital and port district to churches, the city of Sunnyside and school district.
The results were discussed yesterday, Thursday, during Sunnyside United's monthly board meeting.
Presenting was consultant Steve Magallan, who noted that overall the coalition that makes up Sunnyside United is working well together.
"Overall it looks good," he said. "Better than a typical year one."
Sunnyside United recently started its second of a 10-year drug-free community grant program. The annual survey is part of the program's requirements.
Magallan says Sunnyside's level of cohesiveness is at or better than the six-year mark for some of the coalitions he's assisted in the past.
Even so, the survey among groups participating in Sunnyside United show there is work to be done in forming a cohesive, active coalition.
Magallan suggested the agency focus on four areas in 2014 that showed some concerns in the survey: a logic model for developing a framework for change, increasing membership in conjunction with enhancing cultural awareness, improved community relations in advocating for Sunnyside United's efforts and continued evaluation to monitor and sustain the coalition's goals.
In addition, Magallan said it will be important for Sunnyside United's coalition members to develop "social events with a purpose," to improve a sense of community with each other.
The survey review also led to discussion of how Sunnyside United can balance the work of meeting and planning together with the need to have more of a community presence in the year ahead.
Sunnyside United's next meeting will be Thursday, Jan. 16, 2014, from 10 to 11:30 a.m. in the Sunnyside School District board room.