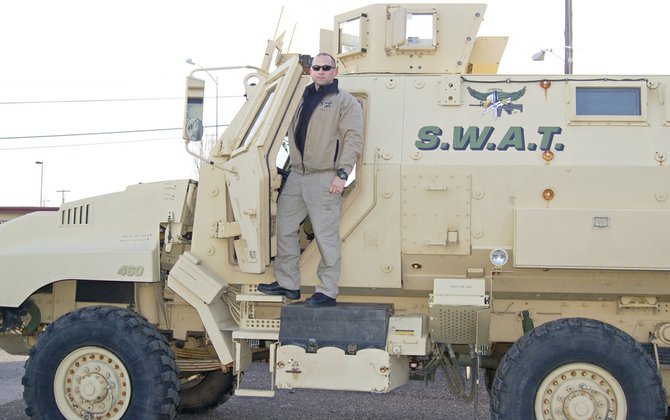 GRANDVIEW – The police department in Grandview currently has two assistant chiefs.
Assistant Police Chief Mike Hopp has been training for his new position for about a month and is currently sharing the title with soon-to-be Chief Kal Fuller.
Fuller will be promoted on Jan. 1 and is being trained by outgoing chief Dave Charvet, who will retire on Jan. 31.
Hopp has been in Grandview with the police department for more than 12 years.
"It will be 13 years in April," he said. "I've been here my entire career. I started here and I will finish here. I've never wanted to leave."
Hopp said the police department has a family environment. Employees are comfortable with each other and the bonds between officers are strong. He said employee turnover is rare.
"I think we've had two officers leave in the 12 years I've been here," he said. "This is a great place to work."
Hopp grew up in San Diego and moved to the Tri-Cities as a teenager. He recalls the weather as being a big shock.
"Winter was cold down there, maybe 65 degrees," he said. "My first winter up here was one of the coldest ever, the temperatures got down to negative 10 degrees. I was like, really?"
Hopp started with the department in 2001 and joined the department's SWAT team in 2003. After being promoted to sergeant in 2006, he became the team leader in 2007.
"It's a challenging job," he said. "There's a lot of responsibility. I've had a lot of training to lead men in stressful situations."
His goal as assistant chief is to continue to support the officers and foster the good work environment.
"I want to assure officers have the tools and support they need to effectively serve the community," he said. "Teamwork, integrity and excellence. Doing the right thing and giving it your all, every time, are qualities I expect not only of myself but also from those that serve under me."
Hopp said serving the public is the reason he became an officer. He related a story of finding a child's stolen bicycle.
"To see his face light up, the happiness when I got it back to him... that's why I signed up," Hopp said. "That may sound cheesy, but it's true."
Former Assistant Police Chief Mark Ware retired last January. Hopp said he had a little training on the paperwork side of the job while Ware was still working with the department.
"I was on light duty and he said, 'here's some stuff you can do,' and taught me a bit," said Hopp.
The result of that extra training is that what could have been wrenching changes in the department have been going smoothly.
"We are ushering in a new era," said Hopp.
"As leaders of this department, we must carry on the tradition of focusing on the needs of the community as well as the needs of our employees.
"I'm excited for the future."