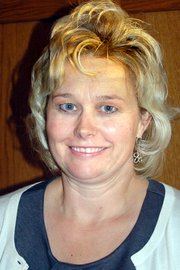 Sunnyside native Julie Schilperoort is now a partner at the Proebstel Michels CPA firm after having worked for the firm since 1995.
Schilperoort, a graduate of Washington State University, returned to her home town in 1995, having worked at an accounting firm in the Tri-Cities for the year following her college graduation.
Her first job in Sunnyside was with Proebstel Michels CPA's, a position she has held until recently.
Recently her boss and associate, Kirk Michels, approached her about buying into the company and becoming a company partner.
"He approached me after his partner Dave Proebstel retired two years ago. He asked me again this year if I'd consider becoming a partner. I decided it was time to take on the challenge," she said.
"This is a great opportunity for me and my family," Schilperoort said.
"I'm very excited about taking this next step in my career," Schilperoort said.
Her specialty is working with small businesses, helping create and maintain business plans.
"The federal tax system continues to get more complex and that is compounded by the connection to the Affordable Health Care Act. People, whether living in a big city or a rural community, need accounting services. Working at Proebstel Michels CPA's is great because it gives me the chance to live and work where I have family and friends and my husband can pursue his love of farming," she said.
In the past 18 years, Schilperoort has seen a lot of changes in the accounting field. Where there were once boxes and file cabinets full of tax documents, now all of that material is stored electronically.
"We are a paperless office," she said.
Schilperoort said the company won't be changing the company name anytime soon. "We will probably look into that following tax season," she added
Schilperoort and her husband, Ryan, who is also a Sunnyside native, have two children, Lindsey, 16, and Clay, 12.
"We came back to Sunnyside so my husband, Ryan, could follow his vision of owning his own farm," she said. He now farms 130 acres devoted to grapes and cherries in rural Sunnyside.
"I am excited about my changing role at the firm and the change it means for my family," she said.