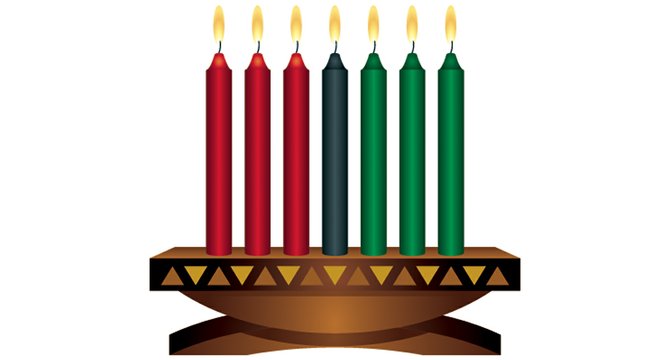 You've undoubtedly seen them marked on a calendar – right after the notation marking Dec. 25 as Christmas and just prior to the New Year's Eve listing on Dec. 31.
The two holidays listed on most calendars, on Dec. 26 to be exact, are Boxing Day and Kwanzaa. But what type of holidays are they?
The holiday of Kwanzaa, which begins today, Dec. 26, and extends through Jan. 1, was created by Dr. Maulana Karenga in 1966, during the period of U.S. history in which African-Americans were involved in struggles for their civil rights.
According to his official Kwanzaa website, Karenga notes it is a seven-day festival celebrating the African-American people, their culture and their history. It is a time of celebration, community gathering and reflection.
Elements of the holiday include lighting a candle each night during the seven-day festival. Each candle, Karenga says, represents one of seven Kwanzaa principles that include unity, self-determination, collective work and responsibility, collective economics, purpose, creativity and faith.
Dr. Karenga wanted to create a holiday that would bring African-Americans together in celebration of their black culture. He was inspired by the "first fruit" or harvest festivals that were celebrated throughout Africa.
According to holidays.net, Kwanzaa comes from the Kiswahili or Swahili phrase for "first fruit"
On the sixth day, which falls on New Year's Eve, family and friends get together to enjoy a large feast and to celebrate their history, culture and the coming new year, according to holiday.net.
It adds that the dates of the celebration, Dec. 26 – Jan. 1, were chosen to correspond to the end of the year celebrations in America. Kwanzaa begins the day after Christmas, to bypass the commercial buying period but to take advantage of the seasonal holiday spirit.
Dec. 26 is also Boxing Day, celebrated by our neighbors to the north in Canada, citizens across the pond in England and Ireland, as well as those living down under in Australia.
For those who have never heard of the holiday, celebrated on Dec. 26, Boxing Day is celebrated in several different ways.
The holiday originated in 19th century England and is also known as St. Stephen's Day, according to Holidayyear.com and Elaine Lemm, a contributor on About.com.
Traditionally, a Christmas box was given to servants, who would be provided an extra day off. The servants would take the box home to their families and celebrate the day after Christmas.
The boxes contained food and fruit, clothing, and/or money, according to Calendar-updates.com. Contributors to that website say, "The gifts were an expression of gratitude similar to the bonuses many employers offer their employees today."
A box for monetary donations, Alms boxes, were placed in every church, as well. Lemm said the money was collected for the poor and opened the day after Christmas.
Fox hunters also celebrate Boxing Day, although they can no longer hunt live game. They gather, dressed in red hunting coats and the hunting dogs now follow artificially laid trails.
Families and friends also get together and watch sports or play board games.
In many countries Boxing Day is a shopping holiday, according to Holidayyear.com. Shoppers take advantage of dramatic price decreases, and the website says it is a day during which the greatest revenues are collected by retailers in England.
The British and Irish also take advantage of the day, a national holiday, using it as another day to enjoy family and friends, eating leftovers from Christmas, according to Holidayyear.com.
Ireland celebrates Boxing Day, also known as the Day of the Wren, in honor of several legends. One of those legends links episodes of the life of Jesus to the wren.
In Australia, the Melbourne Cricket Grounds hosts the first day of the Boxing Day Test, and the Sydney to Hobart Yacht Race begins on Boxing Day.
Holidayyear.com contributors say the holiday has evolved from a charitable day to an extended Christmas afternoon for many.